"Normal" feels close enough to touch. COVID-19 infection rates have fallen substantially since the winter, and vaccines are being administered with increasing efficiency. For first time, dentsu's Recovery Navigator survey found that the percentage of consumers who believe the pandemic is getting better outweighs those who believe it is getting worse.
And yet, it's hard to imagine life as it once was. Over the course of a year our lives have not only changed but are continuing to change. What is "normal" may look substantially different from the past – according to our findings, two-thirds of consumers will be cautious resuming pre-pandemic activities even once safe.
"Normal" will also look different from person to person. While macro trends in consumers' behavior will emerge as the pandemic evolves in 2021, many will make decisions based on personal circumstances. Behaviors will diverge along the lines of anticipation and anxiety.
Below we highlight key macro trends from dentsu's latest Recovery Navigator, as well as outline an actionable audience segmentation framework to guide marketers as consumers recover at uneven paces.
Macro Trends: Trajectory of the Pandemic
Optimism soars as consumers feel positive pandemic shift. Since January there has been a 29 percentage-point increase among those who say the outbreak is 'getting better' (from 16% to 45%).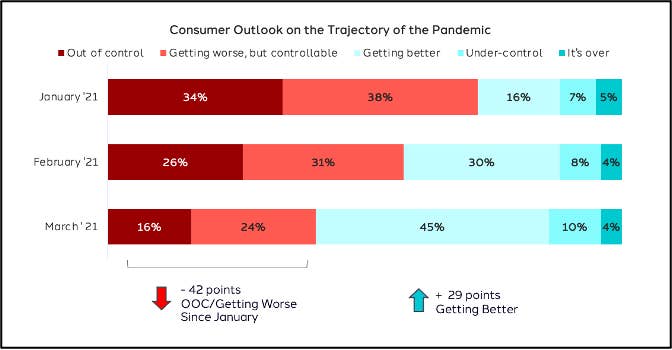 Uptick in vaccination rates continues. The share of consumers who have been vaccinated increased for the second month in a row (27% vs. 22% in February vs. 14% in January).
Consumers recognize they are not out of the woods. While consumers' concern over health risks is trending in the right direction, 58% continue to have significant health concerns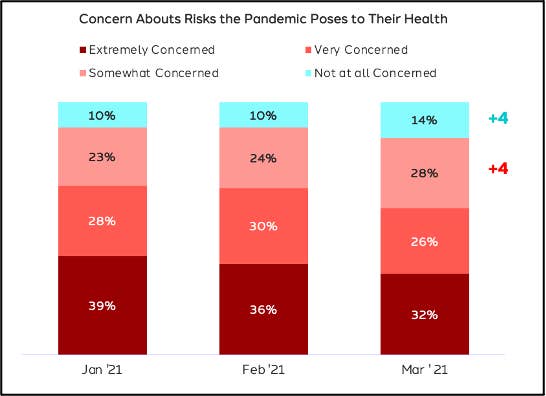 Emotional wellbeing mirrors the duality of our situation. With a light at the end of the tunnel, consumers express hope and gratitude (78% and 76%). However, the pandemic has stretched on for over a year, and many are also struggling with exhaustion, isolation and uncertainty (45%, 41%, and 40%).
Macro Trends: Returning to Normal
Return to normal brings a mix of anticipation and anxiety. 60% of consumers say either life has returned to normal or the expect it to within the 3-6 months. Yet, there are hesitations about that return: 2/3 of consumers are likely to take a cautious re-entry to pre-pandemic activities even once safe.

For local activities, consumers trust local guidance. We asked consumers when they would feel comfortable resuming select activities again. For retail shopping and dining out, activities closely tied to local community, consumer were most likely to say once "experts say it is safe to lift restrictions."
Hyper-public activities have a higher threshold. When it comes to highly interactive activities such as attending live events or traveling internationally, consumers expressed more caution. A majority said they would only feel comfortable "once the pandemic is over."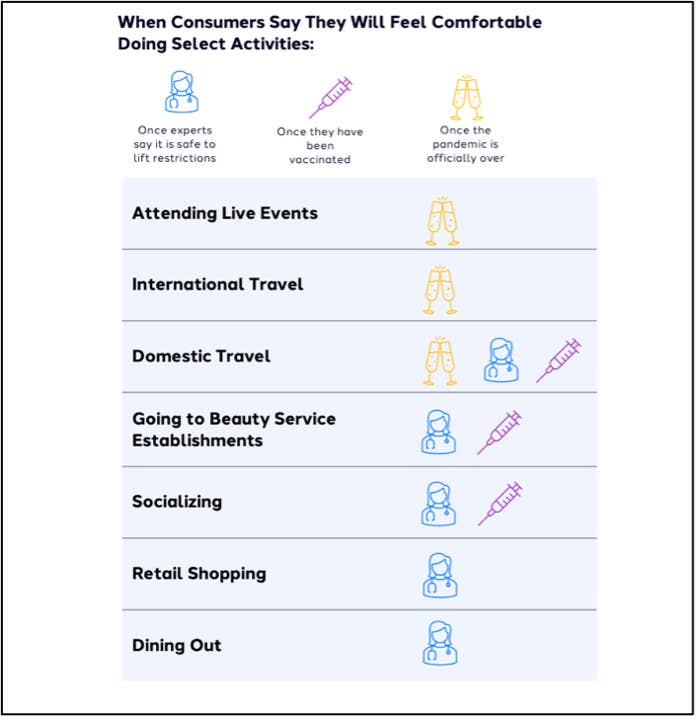 Using Audience Segmentation to Track Consumer Recoveries
A framework for understanding individual recovery journeys: For each of the four segments we have created profiles that detail demos, media behaviors, mindset towards recovery, spending habits and expectations from brands.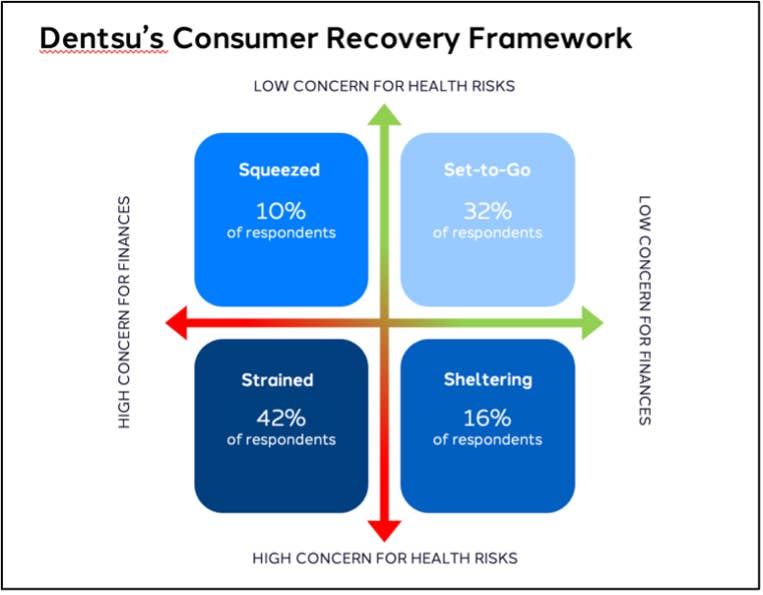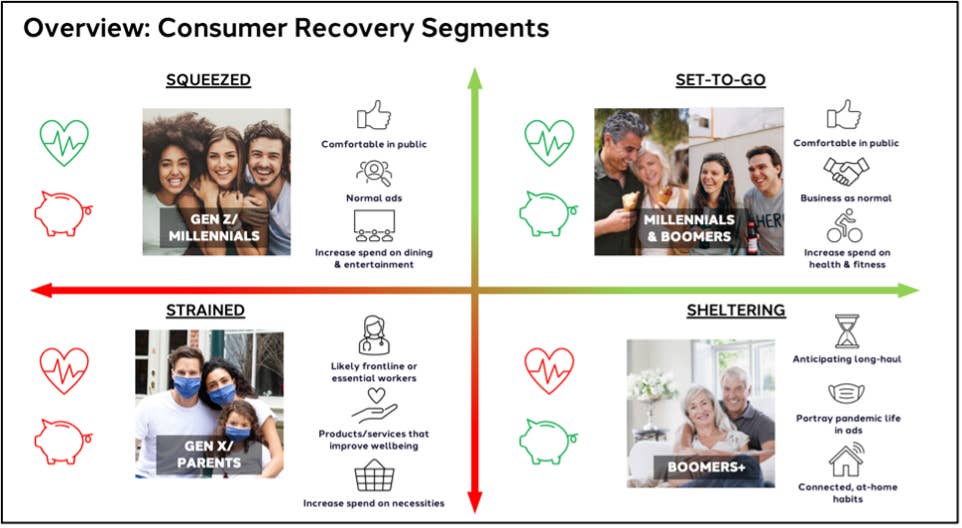 To dive into more detail on these profiles or anything else mentioned above, please download dentsu's March Navigator report.
In keeping up with an accelerate pace of change and in the spirit of championing consumer insight, dentsu will continue to run the Recovery Navigator survey on a monthly basis. Check back for the latest consumer trends and analysis.