A sonic journey across America with the voices of Black Excellence
Entertainment Journalist Gia Peppers hosts an authentic audio series, "More Than That with Gia Peppers" to elevate conversations impacting and inspiring Black America. Launched on February 13, the series is a sonic journey across Black America, leveraging conversations between our host, Gia Peppers, and well-known guests about topics impacting and inspiring Black American listeners. Created for Black audiences and produced and distributed exclusively by underrepresented businesses, the series aims to address the inequities in the advertising supply chain by providing a platform for advertisers to engage consumers through entertaining and informative content.
Tune in every week until April 10 for a new episode celebrating conversations on wellness, entertainment and wealth.
Subscribe on li.sten.to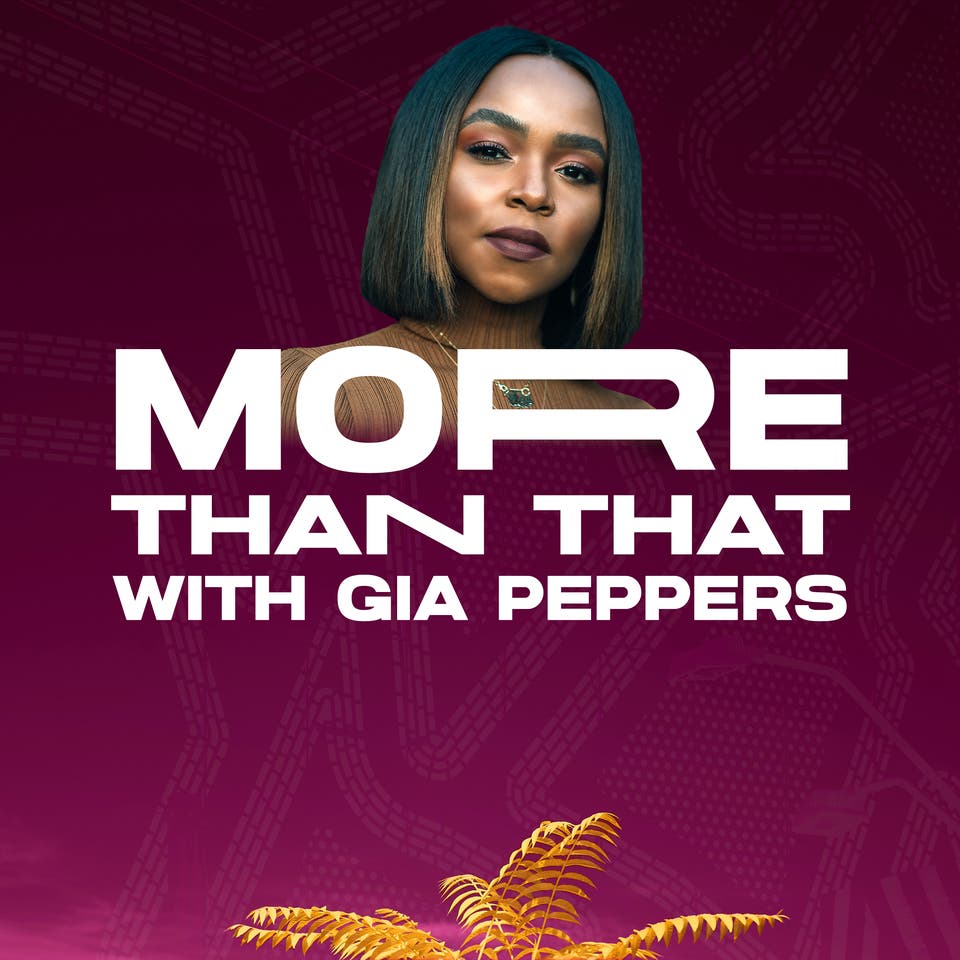 Episode 1: The New Testament
Join us for gems from The Real Housewives of New York's first Black cast member, attorney and late-night TV host, Eboni K Williams; and talk diversity with producer-writer, Shukree Tilghman, from This Is Us. In our season premiere, we explore perspectives and discuss genre-bending narratives. These inspiring, bold creators propel the culture of Hollywood to represent the Black experience in its fully-formed greatness.
Listen on Spotify
Episode 2: Fearless Finance
We look through the lens of Black Wall Street with investor Arian Simone into how we should invest, protect and grow our resources to build long-lasting legacy. In the spirit of abundance and with a heart of gratitude, this powerful co-founder of Fearless Fund shares her motivation with us. And there are new horizons for Black generational wealth; as we hear from Kelle Rozell to jumpstart to our financial planning now and into endless possibility.
Listen on Spotify
Episode 3: Your Body is a Temple
How we eat is revolutionary. This week we get into food with celebrity chef and farmer, Chef Akhi, and Pinky Cole from Slutty Vegan in ATL. We've reclaimed our relationship to healthy food and the sustainability of fresh produce. With more and more access to information, the movement to 'Be More Vegan' is front and center of the social discourse.
Listen on Spotify
Episode 4: Everybody Eats
The mind • body • soul connection is our greatness. Health and healthy choices are the center of our soulful theme this week. Hear real stories from wellness experts and holistic practitioners like Samantha Foxx from Mother's Finest Urban Farms, Lauren Ash, founder of Black Girl in Om, and wellness coach Wendell Holmes.
Listen on Spotify
Episode 5: Art as Power
Black visual artists elevate the diaspora to surface much of the ingenuity we see in our daily lives. A prismatic vision of possibility — at the intersection of art and culture, we delve into the role art plays in society and how Black people see themselves. Larry Ossei-Mensah, ARTNOIR Founder and an ArtNet 2020 Innovator, plus the Founders of Brookyln's BLK MKT Vintage. Former social media manager for the Metropolitan Museum, author of What I Know About Art and co-editor of the Black Futures anthology, Kimberly Drew walks us through the history and future of Black art as a tool for community building.
Listen on Spotify
Episode 6: The Black Family
There's a beat that permeates the culture, and almost every Black family. Our homes are filled with music, love, soul, food, laughter and faith. This episode we'll get into the history and the joy with Judge Lynn Toler (also a mother) and writer-director Kenya Barris (also a father) of Black-ish— on how our family units have evolved.
Listen on Spotify
Episode 7: The Two Americas
Plans, policy, apology and advocacy are what we need now. In this episode, we're calling it all out. 54 years ago, Dr. MLK Jr.'s powerful speech, The Other America, ignited a new hope for our great nation. On this hard-hitting episode, we're joined by three powerful voices; social advocates reshaping the political landscape. What does the future hold for Black greatness today?
Listen on Spotify
Episode 8: We Got Now
Creativity, problem solving, and the improvement of early technologies have all stemmed from Black history. We now see it in the networks of Black technology entrepreneurs, and in the advent of safe spaces for the development and incubation of emerging concepts. In this cultural moment, Black folks are hyper focused on innovating and building a future that is safer by design — and evermore equitable.
Listen on Spotify
Episode 9: Black Women's Health
Black mothers and Black women are the heart and soul of the Black community. It's important that we recognize disparities that are shortening our lives and inevitably taking away from our greatness. On this episode of More Than That, we are taking a microscopic look at Black Women's health and self-advocacy — these systemic challenges must be overcome with the guidance of experts and careful awareness of Black Americans.
Listen on Spotify
Episode 10: Corner of Freedom Blvd. + Joy Ave.
Today we're showing up for Juneteenth 2021 with Detroit griot Marsha Music, host Baratunde Thurston, and image-activist Michaela Angela Davis. These are the voices of Black expression — told on the front porch with our future at the forefront. Join these icons for a celebration of our legacy as a People. From our family to yours, Happy Juneteenth!
Listen on Spotify
Created in collaboration with One Solution, an award-winning division of Urban One, dentsu is proud to launch this first-of-its-kind audio series. More Than That with Gia Peppers was born out of a desire to not only respond to the inequities we see in the advertising supply chain, but also to provide an opportunity for dentsu clients to leverage a new consumer engagement model — one that avoids the intrusiveness of traditional advertising by co-creating and supporting content people care about.
General Motors, Procter & Gamble, and Kroger each played a major part in the development and creation of this series—allowing each of them to share their own commitments and actions they are taking to create change. The National Association of Black-Owned Broadcasters (NABOB) and several member CEOs lent their support and provided guidance to ensure everything about the series was authentic and meaningful for sustained impact. Learn More
"We are delighted to see the team at dentsu Americas have gone far beyond mere words and have inspired several of their major clients to launch a national advertising campaign on NABOB's member stations and networks. This is a game changing commitment, and I hope it marks the beginning of a new relationship between NABOB, dentsu Americas and the major national advertisers who are supporting this series." - Jim Winston, President of NABOB