For a third year in a row - Dentsu Aegis Network Bulgaria is the greenest company in Bulgaria
Published on:
10th June 2019, Sofia: Dentsu Aegis Network Bulgaria was invited on stage for a third year in a row to receive the "Greenest Marketing and PR Company" Award at the annual Green Awards Ceremony in Bulgaria. The recognition comes as an acknowledgement for Bulgaria team consistent efforts to develop and maintain its sustainable green projects with bigger and bigger effect each year over its team members and stakeholders.
For the first time in 2019 the green stream of our efforts has spanned not over to business only but also in schools by uniting our environmental initiatives with "The Code" global project that was pilot launched in Bulgaria this spring. Over the course of one month, adolescents in 7th and 8th worked side by side with their business mentors to come up with advertising campaigns to compete in the final stage of the project – "The Rise Up Challenge". In the end, three teams from three different schools won financing for their "green" ideas, as the opportunity to see their ideas come to life. The initiative reached more than 300 students in seven Bulgarian schools, introducing them to the context of the marketing industry and providing them with valuable guidance for succeeding in the digital economy.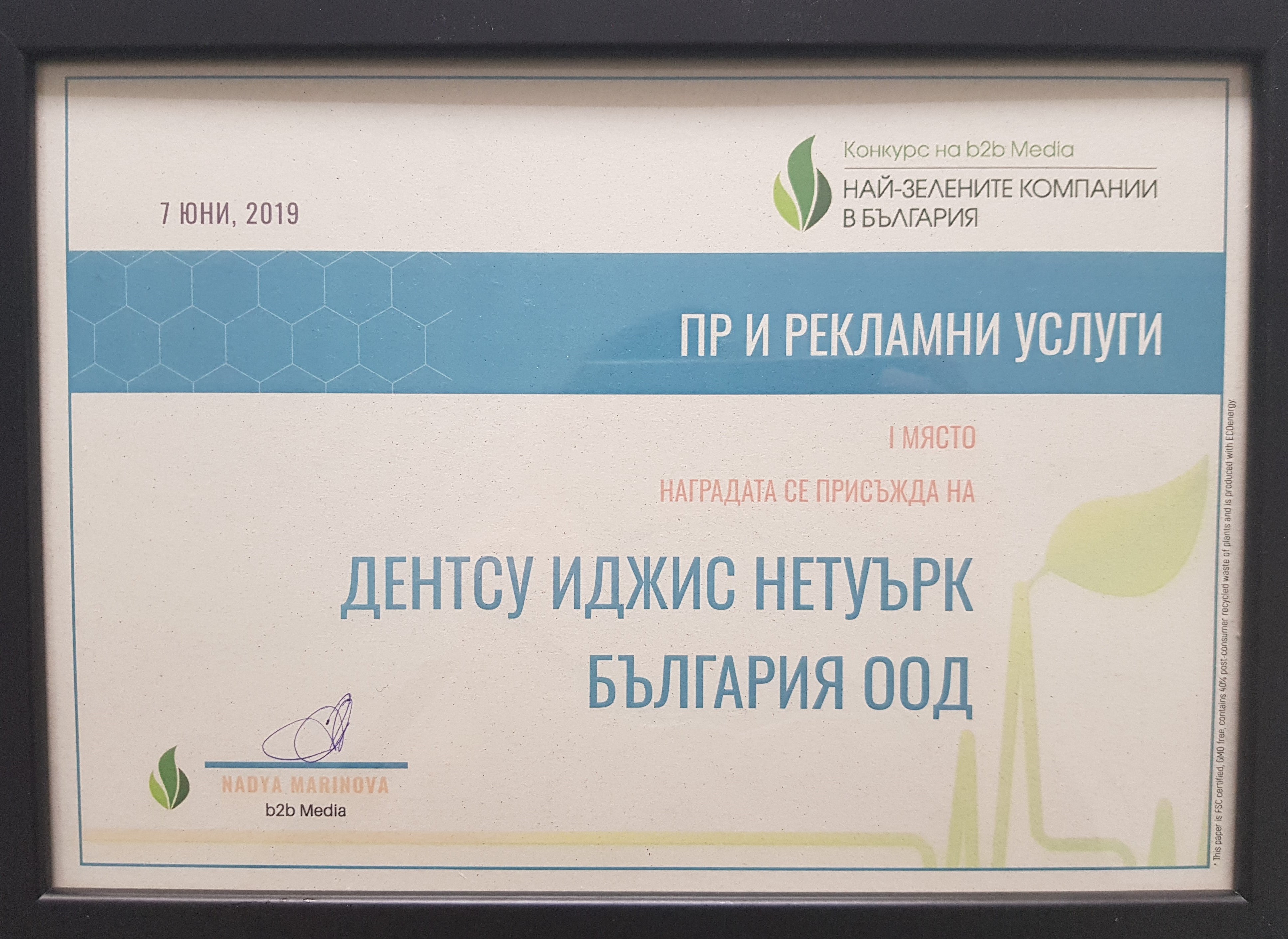 The highest-scoring idea came from students at 23rd School Frederic Joliot-Curie for their presentation of a business plan for the creation and distribution of a plastic bottle compression machine, designed for commercial entities, as well as corporate work spaces.
Radoslav Nedelchev, COO and Social Impact Champion, Dentsu Aegis Network Bulgaria said: "Another great award for us. And what is more important – it cannot be taken as a coincidence anymore. Being "The Greenest Company" in our industry for a third consecutive year is a pattern and we intend to keep it for long!"
"We are more than happy that this precise year the green awards prizes also the launch of "The Code". This a joint effort of DAN Bulgaria and Isobar Commerce team and together with the invaluable help of Junior Achievement Bulgaria we proved that creating a strong business and building a better place of everyone to live in are not conflicting goals. On the contrary – they are both essential ingredients for long-term success. As the children proved themselves – without a sense of caring there can be no sense of community", he added.
It brings great honor and joy to our whole team to receive a first-place award for the third time and it motivates us to keep going and keep giving!
‑ ENDS ‑
For further information contact:
Rumiana Yakimova
Corporate Communications
Dentsu Aegis Network
26-30 Bacho Kiro Str.
2nd floor
Sofia 1000
Bulgaria
T: +359 (2) 981 99 17
E: rumiana.yakimova@dentsuaegis.com
About Dentsu Aegis Network
Part of Dentsu Inc., Dentsu Aegis Network is made up of ten global network brands - Carat, Dentsu, dentsu X, iProspect, Isobar, mcgarrybowen, Merkle, MKTG, Posterscope and Vizeum and supported by its specialist/multi-market brands. Dentsu Aegis Network is Innovating the Way Brands Are Built for its clients through its best-in-class expertise and capabilities in media, digital and creative communications services. Offering a distinctive and innovative range of products and services, Dentsu Aegis Network is headquartered in London and operates in 145 countries worldwide with more than 40,000 dedicated specialists.