It's no secret, over the past eight months the role of the chief marketing officer has become more complex than ever imagined. While no one could have predicted the pandemic, the findings from dentsu's CMO survey 2020 indicate that some marketing leaders report feeling better prepared for the road to recovery than others.
The following blog post highlights key findings from the U.S. market, including leading U.S. CMOs' response to the crisis and their plans to create brand differentiation in a climate of uncertainty. For in-depth coverage, please join dentsu Americas' Chief Strategy Officer, Dirk Herbert for a webinar on Thursday October 22nd, at 1pm EST.
Compared to Global Counterparts, U.S. CMOs Feel More Prepared for the Rocky Road Ahead
In the short-term, COVID-19 has disrupted business-as-usual. Both U.S. CMOs and their global counterparts are equally likely to report their businesses being impacted by the pandemic – in fact, 91% have experienced disruption at some level. However, within this instability, a group of 'Prepared CMOs' has emerged. This cohort reports feeling well equipped to steer their businesses through the next six to twelve months. Around the world, 42% of marketers surveyed felt this way. In the U.S., that number rose to 50%. We sought to understand exactly who are the marketers who feel better prepared for the crucial months ahead and, more importantly, uncover how they came to weather the storm and feel well equipped for the future.
Learnings from 'Prepared CMOs' in the US
In investigating the why behind 'preparedness', we found that while some leaders' sense of preparedness is undoubtedly due to business insulation, it is also based in a mindset of turning challenges into opportunities. Specifically, the mindset of Prepared CMOs revolves around three key pillars:
1. Championing Agile Innovation
CMOs who feel better prepared to navigate the crisis think about their role differently. They are more likely to view marketing in service of disruptive innovation and superior customer experience, while their less prepared counterparts hold a more traditional perspective around growth (data shown below).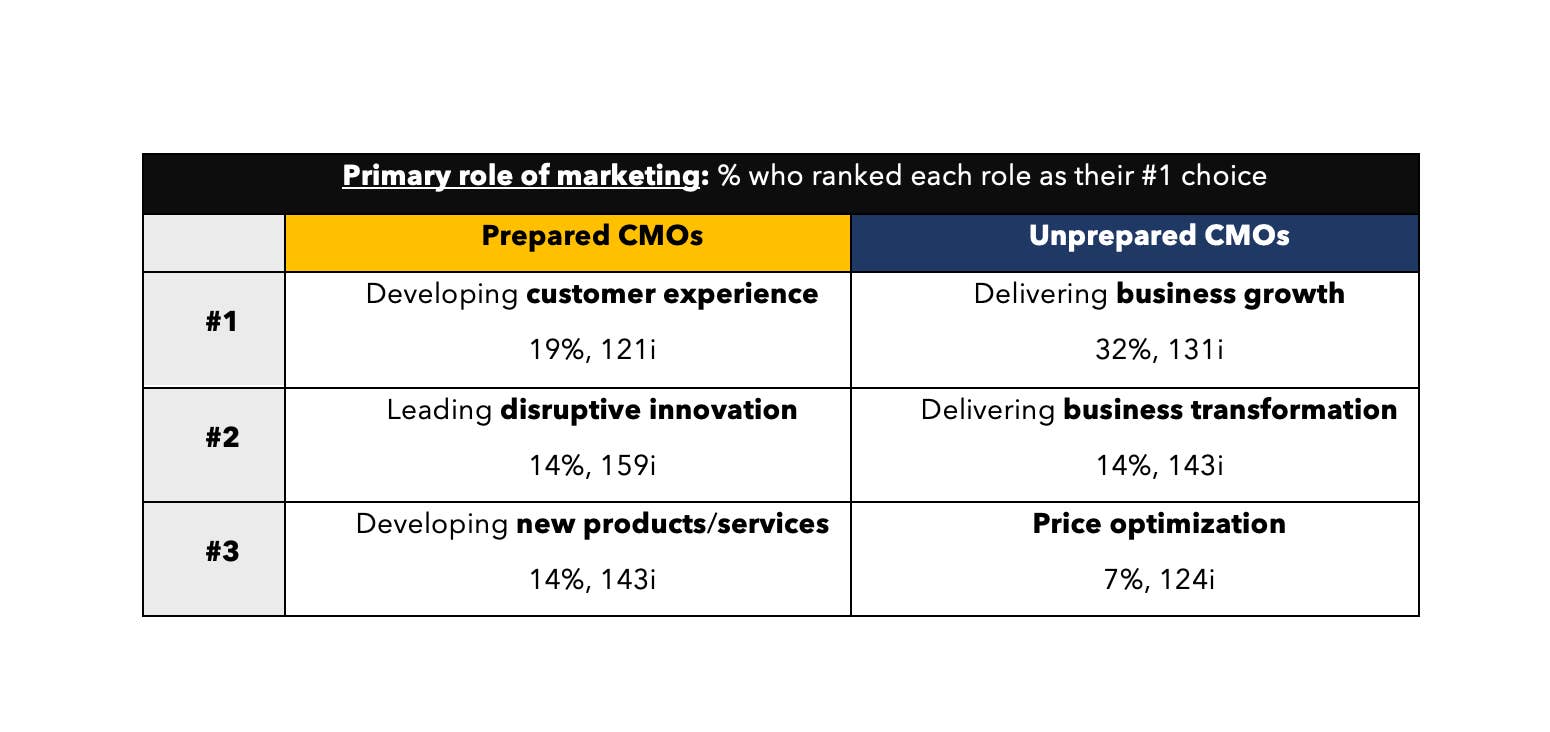 This inventive mindset has left Prepared CMOs more comfortable operating with agility and precision amid unpredictability. While both Prepared and Unprepared CMOs are seeking to understand new consumer behavior during the pandemic, Prepared CMOs are converting insight quickly into new products, commerce and brand experiences, in addition to advertising and communications. Simultaneously, they are ensuring continuity by safeguarding employees. Meanwhile, Unprepared CMOs remain solely focused evolving their communications and do not appear as focused on evolving brand experience.
Key Implications
It's time for business innovation. Prepared CMOs are characterized by embracing change, the ability to think big and speed of thought and action.
Progress over perfection. Understanding consumer behavior is more important than ever, yet has never been more difficult to achieve. Rather than wait to gain a 'perfect' understanding, prepared CMOs are striking a balance between consumer research and adapting business operations.
2. Reimagining Customer Experience
Historically, focusing on customer experience has been a winning strategy in a recession. During the Great Recession, customer experience leaders earned 3x higher returns for shareholders than laggards according to McKinsey. Prepared CMOs realize that a reimagined approach to customer experience is needed in this moment. In fact, they were 2x as likely to say they "completely" changed their CX strategy in response to the pandemic as compared to their unprepared counterparts (35% vs. 16%, respectively).
At a time when many brands have found themselves playing a new or newly important role to consumers, Prepared CMOs have been able to identify how to evolve their CX to be both useful to consumers and authentic to their brand. This is because they let brand purpose guide their efforts: 42% (130i) are implementing purpose-led CX strategies in response to COVID-19 versus only 23% (73i) of Unprepared CMOs.
Key Implications
Disruption is an opportunity for CX to stand out. Amid widespread disruption to the status-quo, Prepared CMOs are reimagining each aspect of their CX to meet consumers where they are.
Brand and CX are tightly intertwined. Leaders recognize that brand is a powerful tool for growth. They are integrating their brand purpose into CX efforts, aligning advertising, touchpoints and products/services to consistently communicate brand values.
3. Embracing an Elevated Role During a pandemic that has upended ways of transacting and interacting, marketing teams have been called upon in ways atypical of their usual remit. Some have embraced the opportunity the expanded role presents better than others. Prepared CMOs were more likely to report that marketing has taken on greater importance within their organization since COVID-19 began (43% (126i) vs. 26% (77i) of Unprepared CMOs).
In part, this is likely because Prepared CMOs are better equipped to translate the value of marketing into broader financial and business transformation metrics. These leaders are more likely to be held accountable to a variety of KPIs, while their unprepared counterparts are primarily accountable for growing the customer base (data shown below).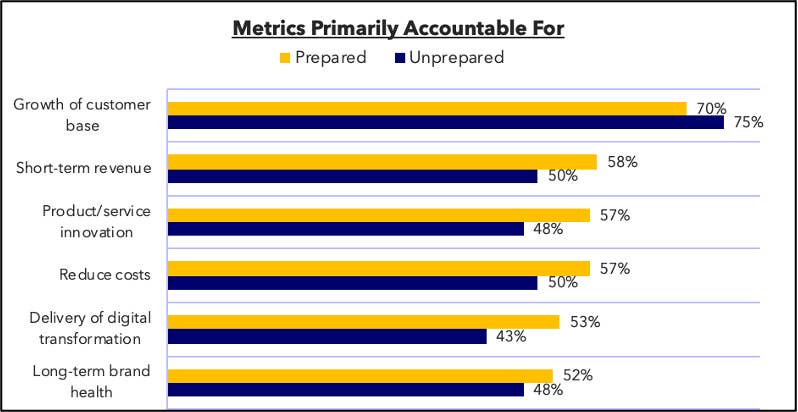 Key Implications
Reimagine marketing for the next normal. Marketers need to be prepared to answer how the brand's vision and strategy should be adapted to emerging trends and customer demands. Answering this key question will outline where the role of marketing needs to expand to within an organization.
Communicate the value of marketing. Marketers need to strive towards gaining organizational alignment. Prepared CMOs are able to communicate their value within their organizations, enabling them to move with agility and take leaps of faith with innovation.