Dentsu partners with Adobe as we share a common vision to help brands drive growth and matter to their customers by delivering memorable digital experiences. In 2020, we were named Adobe Delivery Quality Enterprise Solution Partner of the Year and Marketo Emerging Partner of the Year, Americas. As an Adobe Platinum Partner, we have built immersive experiences for some of the world's leading brands. Our deep Adobe knowledge - ranging from audience and insights mastery, ecommerce solutions and cloud services, media optimization and web experience design – is combined with our expertise in data and identity to power dynamic customer journeys and personalized, contextual interactions.
This year dentsu announced a new strategic partnership with Adobe focused on identity, customer experience transformation and a shared vision to create value for brands through digital innovation. The announcement includes adding Merkle, a dentsu company, to the Adobe Independent Software Vendor (ISV) program and selecting its identity resolution platform, Merkury as Adobe's leading identity partner. Together we are committed to power enterprises as they unlock new potential undergoing through the current paradigm shift towards first-party data and to enable the 'Total Customer Experience.'
View our Alliances Fact Sheet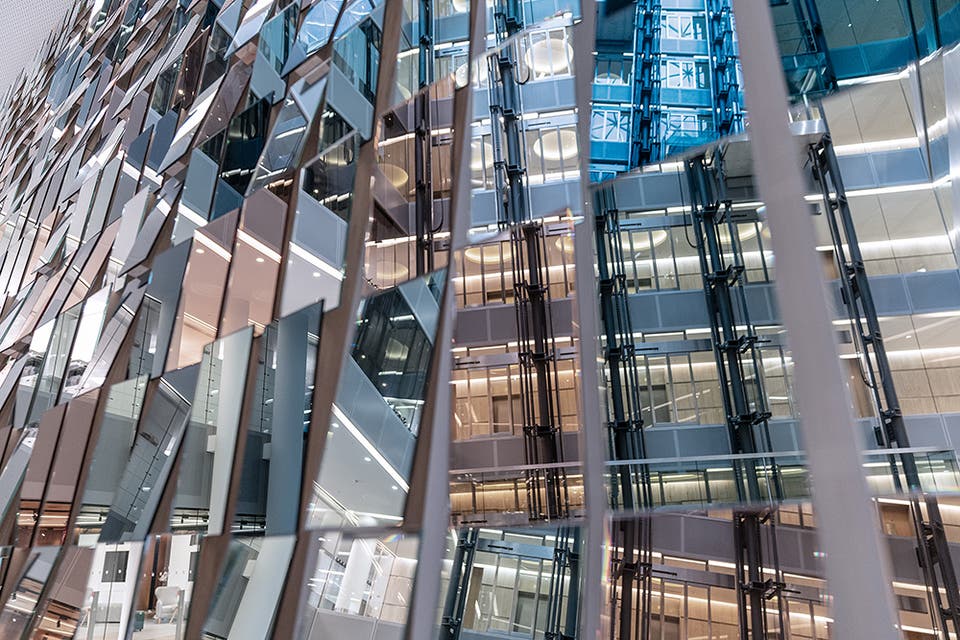 Unlock Seamless B2B Experiences
Dentsu CXM agency Merkle deep dives on the benefits Adobe Marketo Engage brings to B2B brands looking to take their marketing maturity to the next level, streamline sales and marketing processes to offer personalized engagement across channels.
Download Report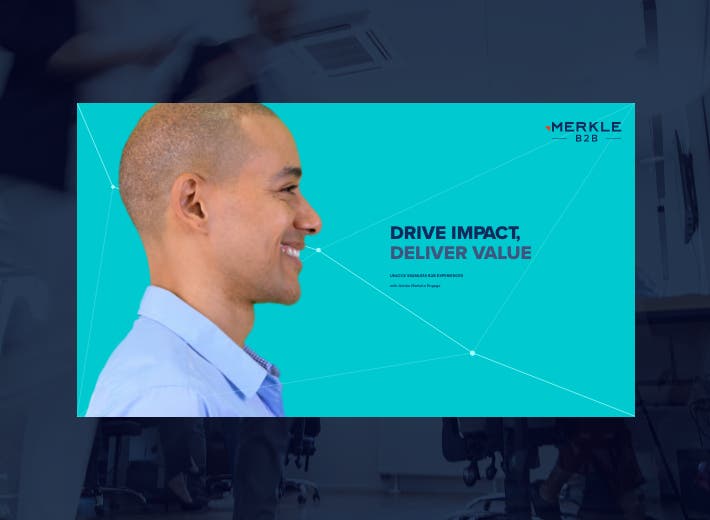 Adobe Commerce Playbook
This playbook is a holistic, detailed overview of a typical Adobe Commerce implementation lifecycle. Each section not only dives deep into the process of each stage, but also provides actionable examples, charts, checklists, and recommendations for you to use in your own implementation.
Download Report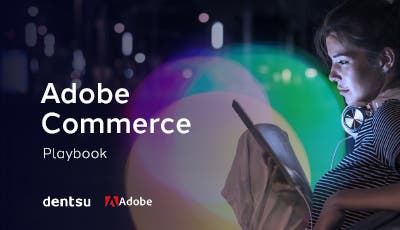 Take Command of Your Customer Experience
Dentsu CXM agency Merkle deep dives in the benefits of the Adobe Experience Platform and how it can help enterprises unify data sources, orchestrate powerful experiences and deliver personalization in real time.
Download report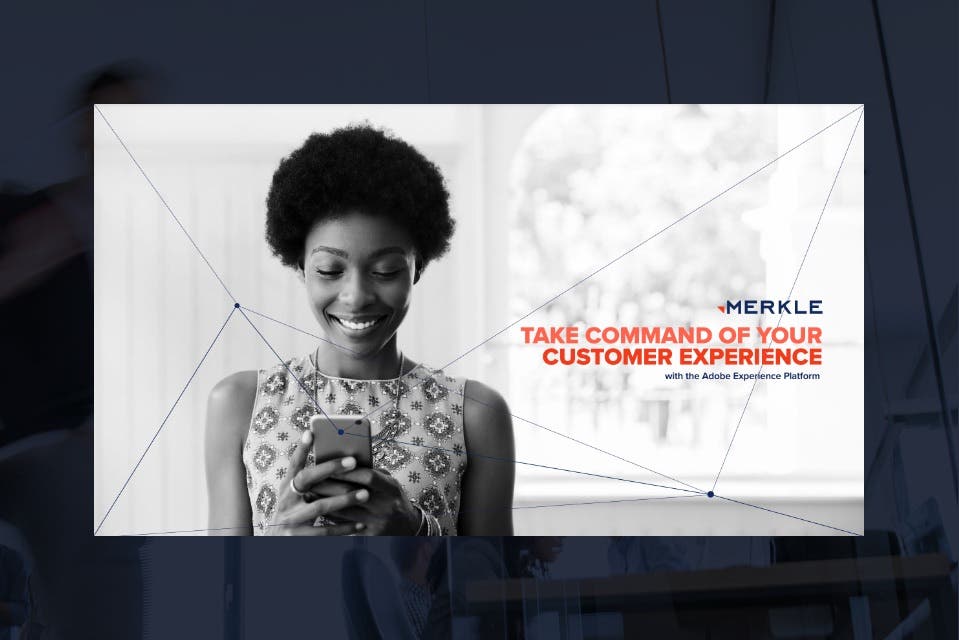 Experiential Content Production at Scale
Dentsu brings together Adobe Creative Cloud, Adobe Experience Cloud, Workfront and its expertise in content creation to enable brands to gain scale, speed and agility for advertising, commerce, service and loyalty.
View Solution Overview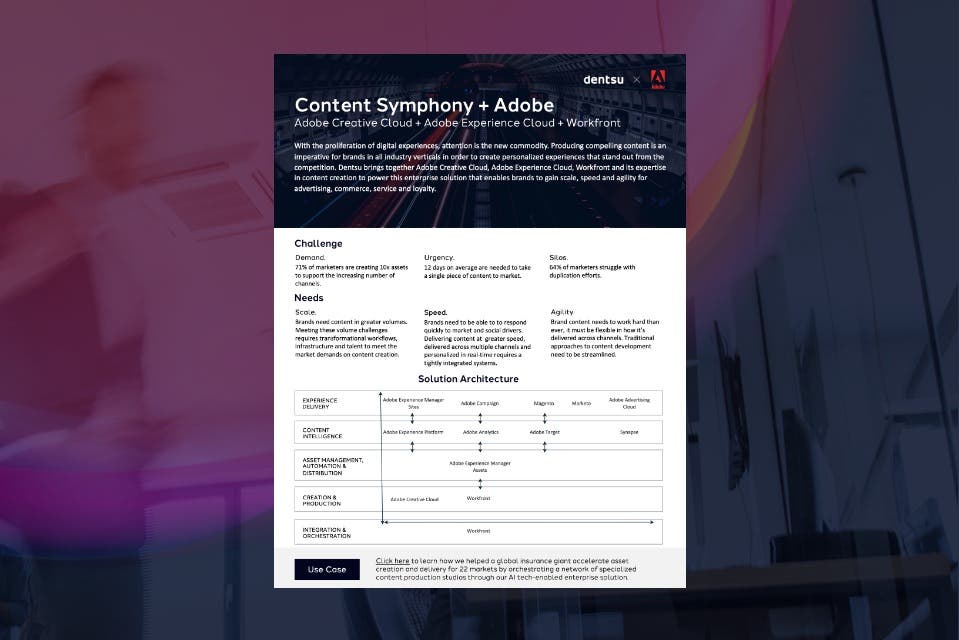 Identity-powered Experience Orchestration
Combining the Adobe Experience Platform's orchestration capabilities and AI-driven insights with Merkury's identity resolution and person-ID graph connections, this privacy data-safe solution allows brands to deliver cross-channel experiences to consumers at the right time.
View Solution Overview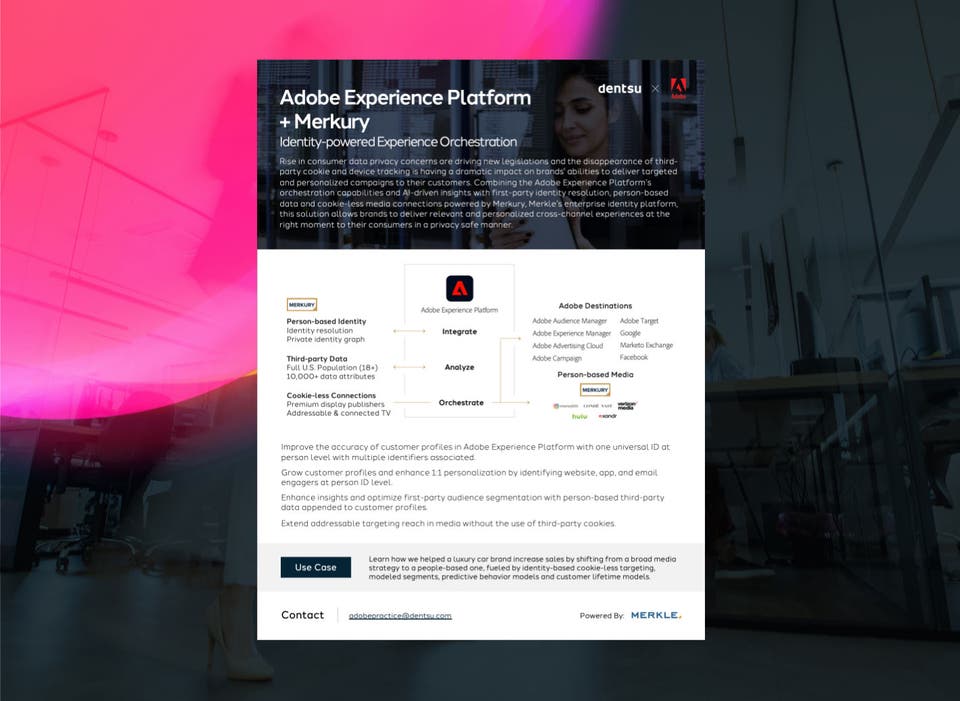 The Forrester Wave: Adobe Implementation Services, Q2 2020
Dentsu is proud to be named a Leader in The Forrester Wave: Adobe Implementation Services, Q2 2020. Specifically, the Forrester Wave report awards Dentsu the highest scores possible in customer experience and design capabilities, in Certified Expert Product Coverage, Adobe Specializations and in a vast number of product specific capabilities.To download the full report (available to subscribers or for purchase), visit the Forrester website.
Download Report