At dentsu, we believe that our differences make us stronger. Our mission is to be a champion for meaningful progress and a force good – with and for our people, clients, consumers and communities. To achieve this, we embed diversity in our mindset, in our solutions and in our teams to empower an inclusive, equitable culture. By building equity within our teams, we aim to become better collaborators with each other and with our clients, driving better outcomes for all.
We are proud to release dentsu's 2022 Global Diversity, Equity & Inclusion (DEI) report. Last year, dentsu Americas released the industry's first dedicated DEI report, setting the standard for transparency and accountability with a comprehensive 360-degree study of DEI progress and activations. This year we have expanded our DEI report to share a wider view of global progress, with initiatives and stories from across Dentsu Group. The report is a 360-degree view of our progress as we have continued to embed DEI into each region.
Learn more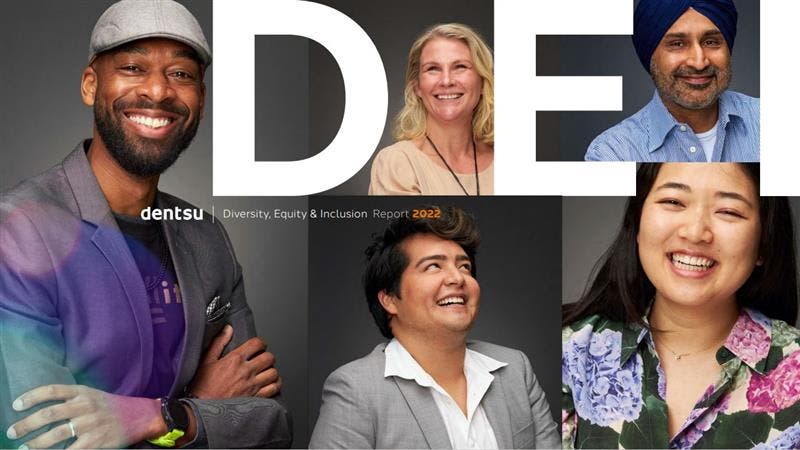 Americas Diversity Equity & Inclusion Report
In the spirit of transparency and accountability, our inaugural Diversity, Equity and Inclusion Report shines a light on our programs, policies and progress from 2020 into 2021. We are proud of the progress that we've made in a short period of time, and know that we have more work to do.
Download Report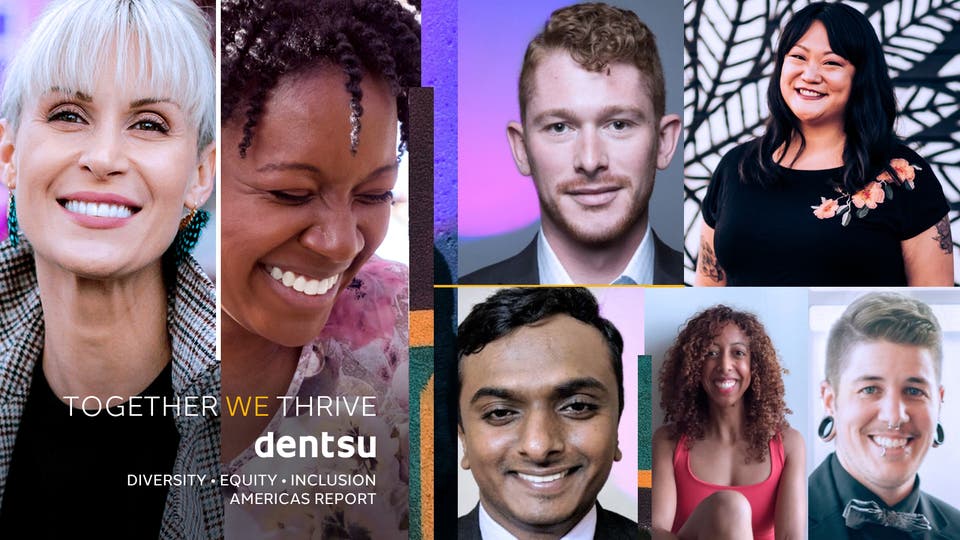 Our Commitments in Action
As a modern marketing solutions company, we understand and value the significant role that we play in creating positive change, progressive policies and representation. We take a top-down and grassroots approach to our diversity, equity and inclusion efforts so that DEI permeates every aspect of our business. Our cohesive organizational design, with Lines of Business and centralized functions, allows us to truly operationalize this at the dentsu level and within our agencies. View our social impact commitment>
Attracting, developing and promoting diverse talent
We are committed to progress through how we attract, onboard, develop, and promote talent at all levels. It is critical that our people have the support and programs where they will be engaged and thrive. 
Building Future Leaders
From how we invest our peoples' careers with ongoing education, to our campus recruiting programs and relationships with HBCUs and other diverse student organizations, partnerships with organizations like MAIP, and building internally-developed early career programs within our brands and, dentsu's The Code program for high school students, we're creating a workforce that is rich in diversity of thought and representation.
Growing community & client impact
We are committed to leveraging our craft to create platforms and social solutions that push reform and drive sustainable change, to collaboration and sharing all that we learn with clients, partners and our industry community to advance progress.
Deepening research and learnings
We work to deepen understanding around anti-racism, anti-sexism and equity in all forms through our educational efforts and BRG events, partnership with organizations like Allyship & Action, and through our craft, such as the research from our Strategy team that provides value and insight to our industry, including through our partnership with #SeeHer. 
Advancing representation in the media
We're drawing awareness of minority-owned,-operated and -targeted media partners and on a mission to advance diversity across media supply chains.
Partnering with diverse suppliers
At dentsu, we believe our suppliers, like our employees, should have equal opportunity to thrive, and that equitable actions are needed to achieve this. By including and encouraging diverse businesses in our supply chain and, we create fair opportunity, promote innovation, and stimulate growth.
Advancing Industry Awareness
Meet our Business Resource Groups
Multicultural
Celebrates the diverse backgrounds and individual experiences that make our community great. Includes Black, Hispanic and Latinx, Asian, Middle Eastern affinity groups.
Interfaith
Appreciates the beliefs of all our people and foster unity by sharing observances, traditions, greetings, and representations for open and honest communication. 
Parents
Championing the voice of all parents and parents-to-be to ensure that they receive support through all moments of parenthood. 
Military
Celebrates employees who balance the demands of service and civilian lifestyles. 
Enablement
Committed to support employees of all abilities to thrive in a safe and accessible workplace. Includes subcommittees for Disability and Mental Health.
Pride
Celebrates diversity of experience and creates a brave space where our people can bring their authentic selves. 
Women Empowerment
Developing a culture of advocacy, equality and empowerment to advance and support women in the workplace.