Get ahead of the curve: Put social purpose at the heart of your brand building
By Paola Olmos, Strategy Partner, Carat UK
Earlier this year, Netflix hit the headlines after its chief content officer Ted Sarandos stated that the media giant may pull its productions from the US state of Georgia in a stand against proposed anti-abortion laws there.
Its willingness to speak out on a polarising issue meant the tech giant joined a handful of brave brands standing for something bigger than what they sell. These companies have made purpose a point of differentiation in a world where consumers are demanding brands have a view on social issues.
It is something that has become particularly necessary in the fractured social reality of the UK where a YouGov study for advocacy group Hope Not Hate found 75% of the public believes British society is divided. Similarly, trust in public institutions is also dwindling with confidence in the government at a record low of 36%, according to Edelman's Trust barometer. This presents an opportunity for companies to fill the void by proving they believe in something and aligning their brand purpose with a societal issue.
Unfortunately, marketers have been slow to react to this emerging need, or when they have reacted, they failed to do so in the right way. Everyone remembers the backlash that Pepsi's Kendall Jenner protest ad and Gillette's take on toxic masculinity received – it is challenging to come across as an authentic and committed voice on issues which are sensitive to many. You must have a rightful place in the conversation. If you don't, it creates a general sense of distrust towards CSR related initiatives: 58% of adults do not trust a brand until they have seen 'real world proof' that it has kept its promises.
Purpose is good for business if done right. As Jim Stengel proved in his 10-year study of more than 50,000 brands, 50 of the highest-performing companies in the world 'had a program of profit and growth based on improving people's lives'.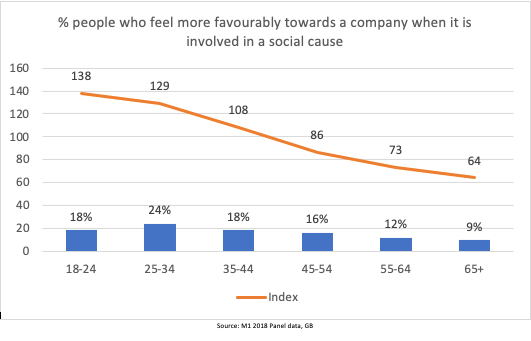 And data suggests this will become important as younger generations greater value on purpose driven brands than their parents, choosing to buy (and work) for companies who have a positive societal impact.
But just how do you do this? Three key themes are critical for success and campaigns from Cadbury and the Co-op demonstrate these.
Purpose needs to drive some level of participation
The Co-op allocates 1% of spend from its members to local community causes. So, it redesigned its media approach to drive awareness of this contribution through hyper-local targeting with localised creative across cinemas and out-of-home.
Meanwhile, Cadbury's recent campaign #DonateYourWords is raising awareness of loneliness in the UK and actively encouraging people to help. By partnering with Twitter, the brand is launching conversation cards followed by promotional threads that explain the different ways users can get involved.
Scale counts
The Co-op's creative and media approach may have felt personal, but it also needed to achieve scale and mass awareness and therefore debuted during Britain's Got Talent on ITV.
Cadbury's sponsorship of Gogglebox, which reaches 61% of UK adults per episode, provided scale for #DonateYourWords. However, it also built relevance and emotional closeness with the audience with the show's stars discussing their experience of loneliness while watching the ad.
Marry societal benefits with commercial success
The Co-op's recent campaign results show early positive indicators that the company is building affinity with customers and non-customers: 47% are more likely to consider Co-op goods and services now they know about the good they do, 39% would recommend them and 16% plan on becoming a Co-op member.
Placing social purpose at the heart of your business and brand is a challenging and risky thing to do. But when done and communicated with authenticity and honesty – and sustained over time - it inspires and motivates the company's employees, creates strong customer relationships and leads to commercial success.
To read more download the full report