Climate change, biodiversity loss and inequality are global megatrends reshaping our world. We are witnessing a significant increase in both awareness and activity across all stakeholder groups, with employees, investors, clients, and consumers all calling for change. Business and brands have no choice but to respond.
According to dentsu's Global CMO survey, three quarters of the 1,000 CMOs surveyed believe that associating their brand with a social purpose will be important to engaging consumers in the future.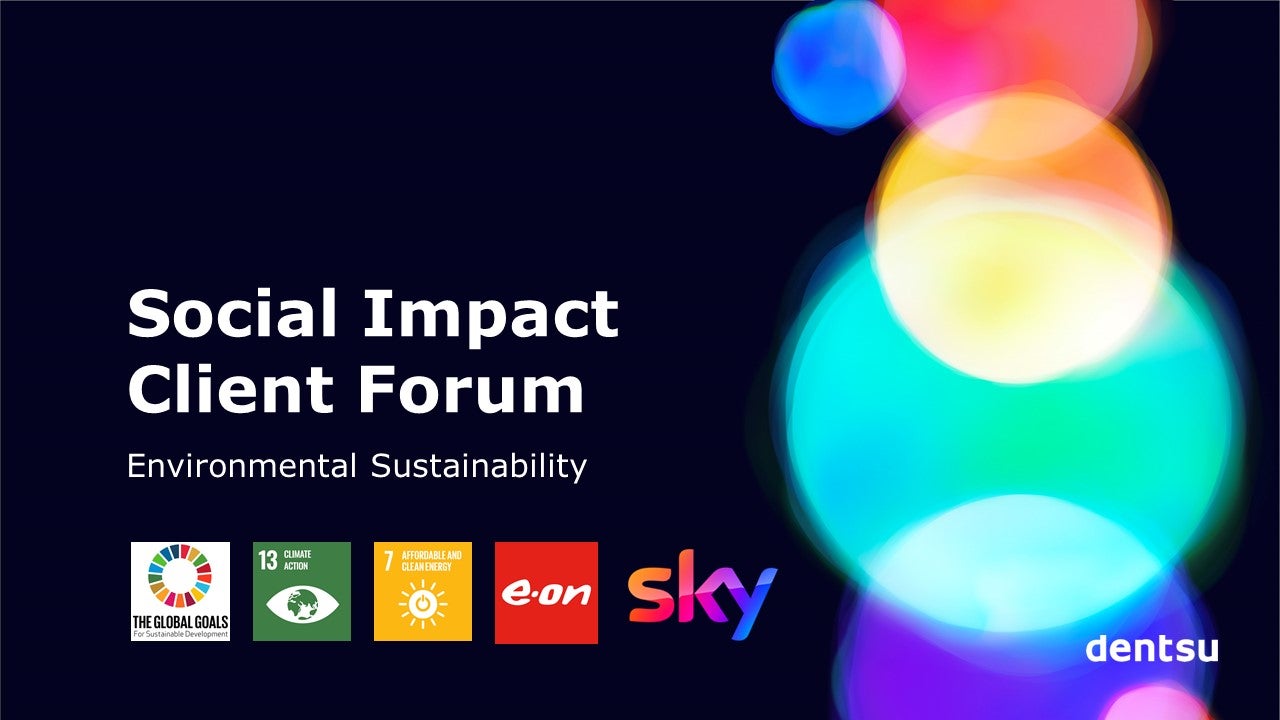 The United Nations Sustainable Development Goals include SDG 17, Partnerships for the Goals, a dedicated goal to encourage cross-border and cross-industry collaboration. To help drive collaboration in this area, dentsu launched our Social Impact Forum; a platform to bring together clients, partners and industry to share ideas, explore partnerships, and join forces for lasting good.
In the first Social Impact Forum, we focused on Goal 13: Climate Action, featuring a keynote from Anna Lungley, Global Chief Sustainability Officer at dentsu and Senior Associate of the Cambridge Institute of Sustainability Leadership.
Anna shared how one of the biggest differences our industry can make to society is by helping our clients and partners achieve their sustainability objectives. Our clients have set ambitious sustainability strategies and are delighting us with work that not only delivers financial results for their businesses, but also has a positive impact on society. This aligns with our commitment to Common Ground, to use the collective power of media and advertising to drive delivery of the UN Sustainable Development Goals.
Through the Brands for Good framework, developed in partnership with National Geographic, sustainable living becomes more aspirational – less focused on material consumption and more focused on 'The Good Life' that addresses the climate crisis, preserves resources for life, and fosters resilient societies.
We had the pleasure of hearing from Sky - the first media company to go carbon neutral - on the success of their partnership with WWF to plant 1 billion trees and reduce single use plastics through Rainforest Rescue and Ocean Rescue projects.
With an important commitment to Net Zero Carbon by 2030 through their entire supply chain and the new Sky Studios aiming to be the most sustainable TV studio in the world, Sky's commitment and investment are industry-leading.
Sky aims to use their voice in the political sphere to help drive change and to use creative content to drive positive behavioural change in consumer behaviour. With the Ocean Rescue campaign reaching 48 million persons, there is huge potential to inspire, influence, and promote action.
E.On Energy shared how they transitioned from being a fossil fuel company to leading the change and being part of the solution with investments in clean energy, providing 100% renewable across their entire supply.
E.On called attention to the invisible dangers of air pollution with a living sculpture, placed by Tower Bridge in London, that demonstrated the surrounding air pollution in a striking and eye-capturing way.
Although the pandemic has temporarily reduced visible air pollution, there is no doubt that the cost to society has been too high. We need to accelerate our action to mitigate the greatest threat that humanity has ever faced, while building the conditions for humankind to thrive.
Addressing and mitigating the worst impacts of climate change remains a key priority. Before Covid-19, the World Economic Forum (WEF) Global Risks Report 2020 found that for the first time in the history of the survey's ten-year outlook, environmental threats dominate the top five long-term risks by likelihood, and occupy three of the top five spots in terms of impact.
If you are interested in taking part in the next Social Impact Forum, sign up here.
For more information on our Social Impact Strategy, visit https://www.dentsuaegisnetwork.com/who-we-are/social-impact