This article was written by Scott Sallée, Social Impact Manager, Dentsu Aegis Network UK & Ireland
The Code, our flagship Schools Programme, has reached more than 11,000 studentsin the UK since its launch in 2017 and has formed the blueprint for a programme that has been rolled out globally. Bringing the skills needed to thrive in the digital economy to diverse groups who might not have considered a career in our industry.
Last week, Merkle, a leader in data-driven performance marketing, worked with our partner schools from The Code to showcase the best of their culture, work, and clients to a group of 40 students from around the UK.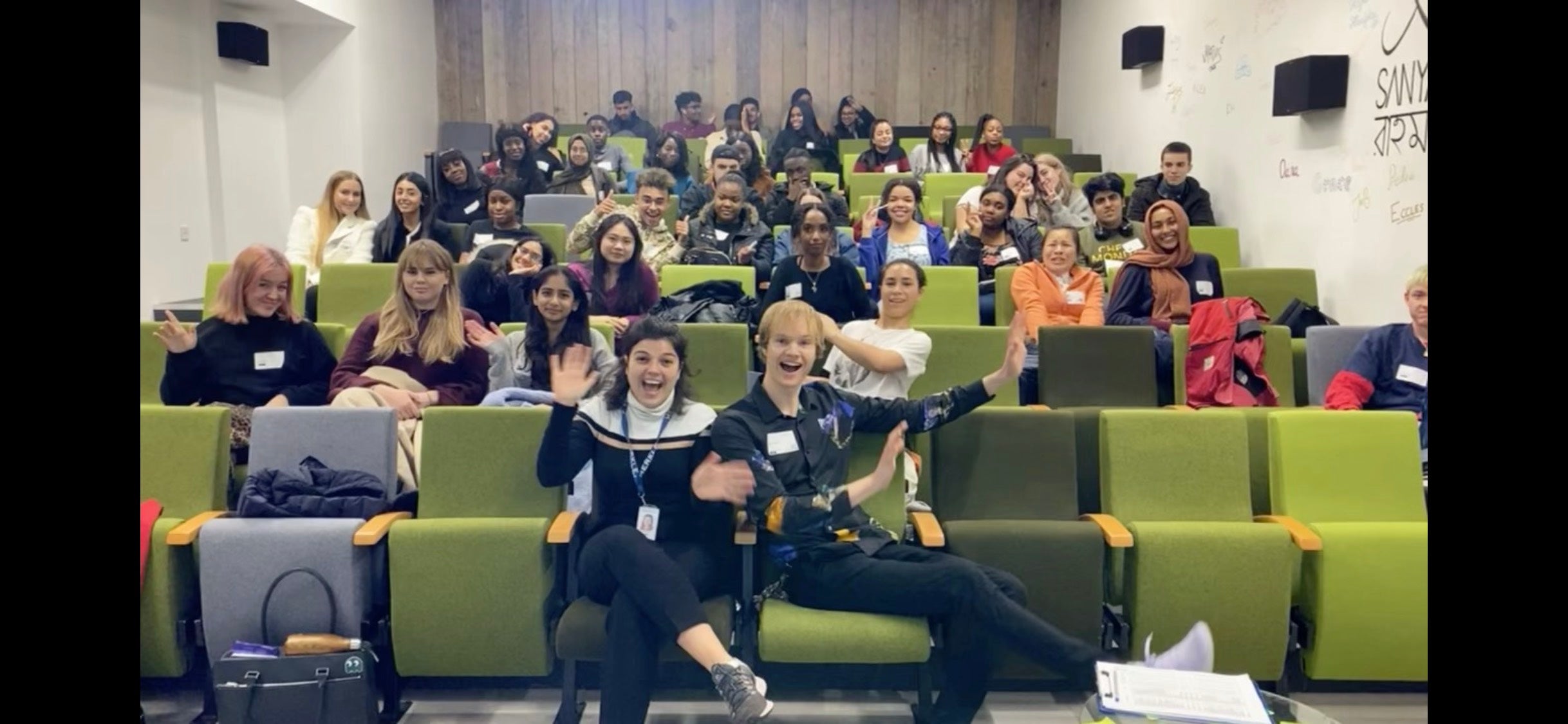 The day, organised by Isabella 'Issy' Luba, Head of Early Careers EMEA, kicked off with an overview of Merkle culture and values; she shared passionately how the approach to inclusion, diversity, and wellbeing made it the best place she's ever worked!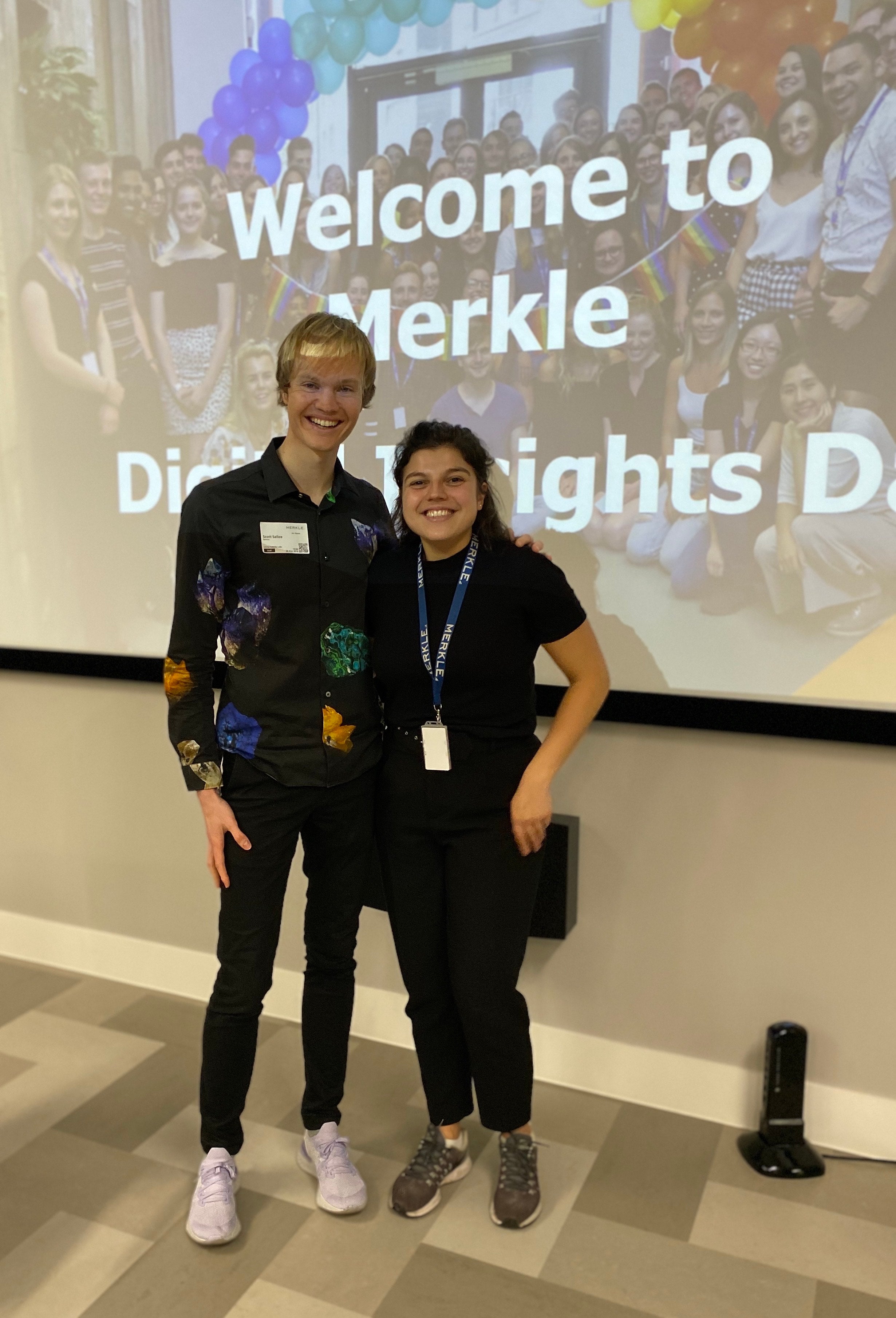 Students then heard from Dylan, Chloe, and Aminat, specialists in Sales, Strategy & Planning, and Analytics, and learned how their work for a major film studio has driven sales of blockbuster movies leading them to exceed their box office targets.
A quick break, and then back to hear from Aidan and Niyi, who lead Paid Social and Client Services, to appreciate where to reach the target audience, and how to build client relationships based on honest, straightforward communication and trust.
Lunch allowed opportunities for networking and connecting between Merkle teams and students, and then it was back into hands-on workshops to beat that post-lunch slump: Thinking Confidently, led by Jess, which asked participants to write a commitment to themselves, and Employability Skills, with Issy, which challenged perceptions and sparked debate about the world of work, including"do you need a degree to earn a good salary?"and "do you only work 9-5?".
Students were asked to consider their purpose, where what they love doing, what they can be paid to do, what the world needs, and what they are good at, overlap. The Japanese call this ikigai – and it's an exercise we could all benefit from at year-end-review time!
The day closed with a lively panel with an active Q&A – including why to work with a company that shares your values, the power of mentoring, how to stand out amongst other candidates, finding what 'success' means to each person, and how to align purpose and impact with profit.
Students were encouraged to make the most of their experience so far by using storytelling: if you've moved? You've shown adaptability! Have you taken care of a family member? Leadership and resilience! Played a sport? Team and relationship building!
A valuable insight was that the largest influence on a student's future was not their school or parents, it was work experience, grades, social media, and work that enabled them to have purpose.
Thanks to the panel: Ryan Skeet – Paid Search Manager, Anais Valoris – Data Analyst Apprentice, and Julia Frisby – Senior Vice President, Client Partner, and Scott Sallee, Social Impact Manager.
Students said:
"I really enjoyed learning about the roles within a social media marketing agency. The workshop has really fuelled my passion for the industry and becoming a digital marketer."
"The day was great in the sense that it gave insight into the different job sectors there are at Merkle and just what each of these sectors may get up to on a day-to-day basis. I am in my final year of college, and I am very passionate about creative media and interested in taking up an Apprenticeship/Degree Apprenticeship within the Advertising/Digital Marketing/Paid Social industry."
"I was unsure about whether digital marketing was for me but after the event I feel pretty confident in my choice to pursue it! The speakers talking about their job roles were really insightful as I find people don't generally go into much detail about what they do - which can make it hard to have something more focused to aspire to."
The Merkle team said:
"It was fantastic to see the young people so engaged in the Q&A session. They all had really great questions".
"This kind of event is exactly what we as a business should be doing to help educate students out there on the opportunities available to them. Not everyone has a stellar careers department at school or super supportive parents at home. Everyone deserves to know the choices they have available to them."
None of us got where we are today on our own. We were helped along the way – a kindness we cannot pay back and a responsibility we now have to pay it forward to others.
That's how we'll create a digital economy that works for all – our Social Purpose.