It's a perennial debate as we enter troubled times. Do you go dark? Do you focus purely on response? What are the long-term effects of media silence on brands?
The standard response from the industry is that all brands should keep spending, but we would say that wouldn't we.
Chris Ashworth, Head of Strategy at Dentsu, explores the implications of pausing activity during times of uncertainty.

Analysing a few data sources
Way back in the last recession (2008) Dentsu's marketing effectiveness consultancy, D2D, looked at a number of brands within its data bank and were able to model the effect of removing elements of TV investment from the mix. The critical factor which influenced longevity of effect appears to be the proportion of long term: short term effect of advertising on the brand. Essentially the more a brand benefited from short term effect the shorter lived the effect of spend reduction would be.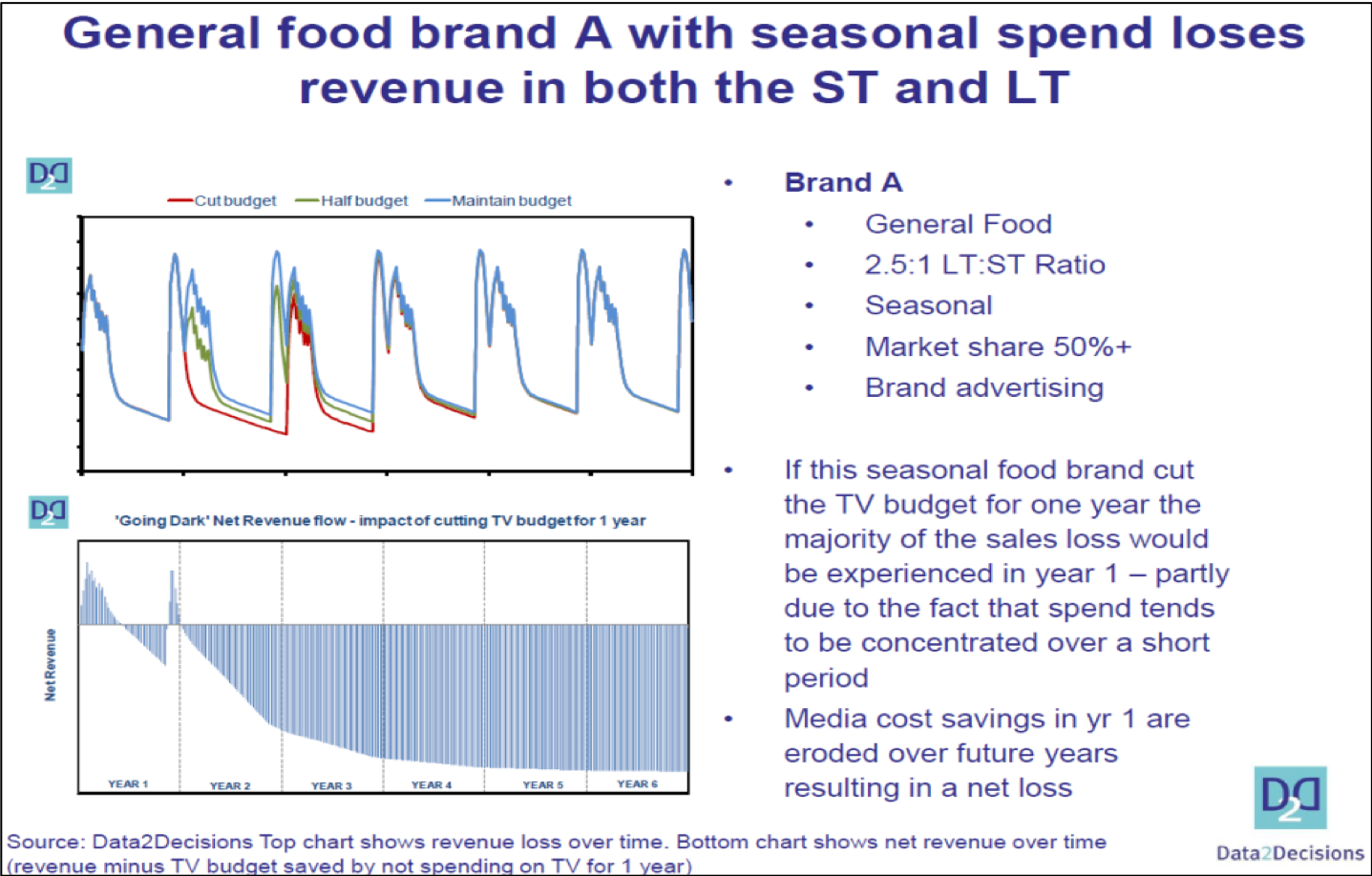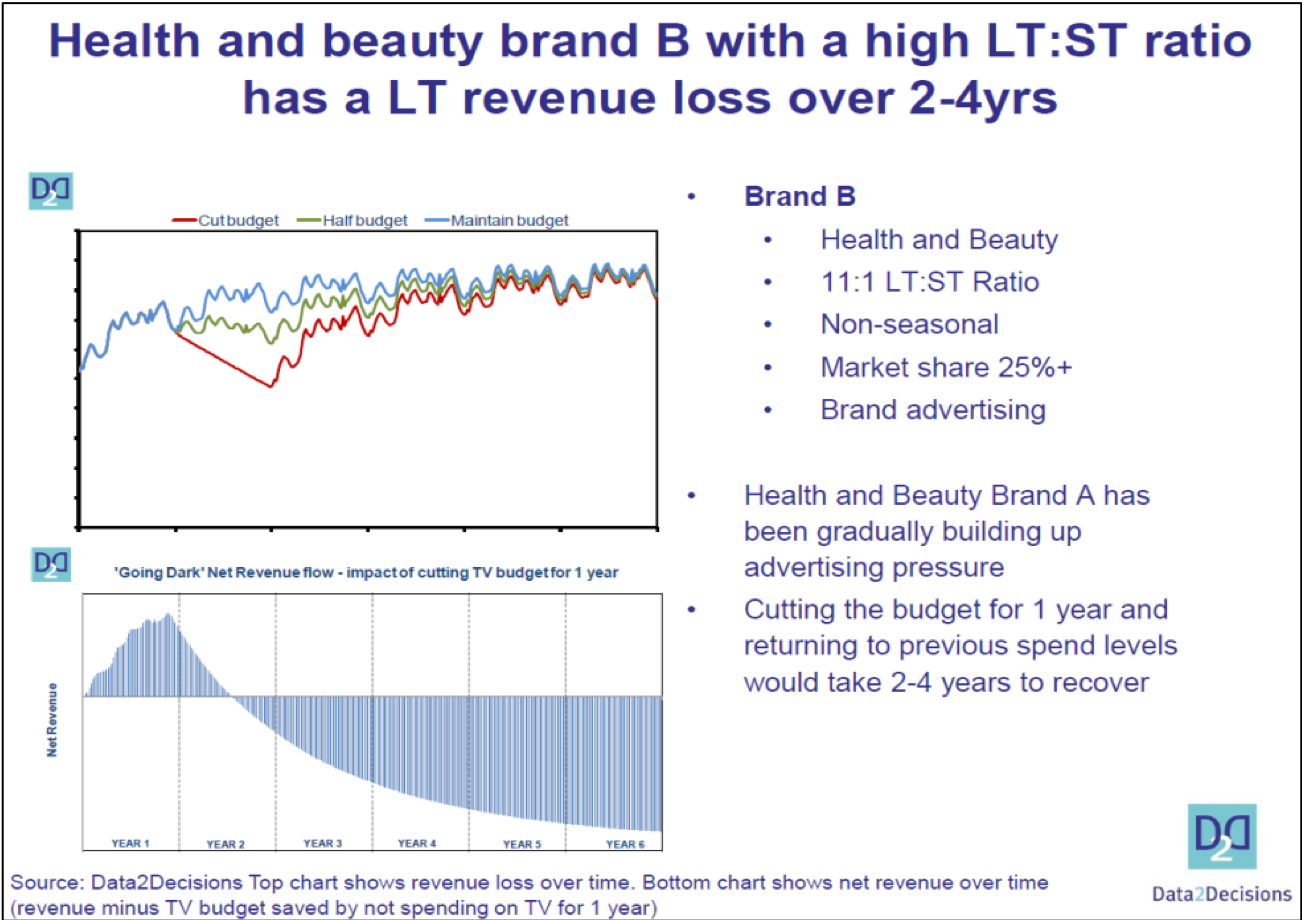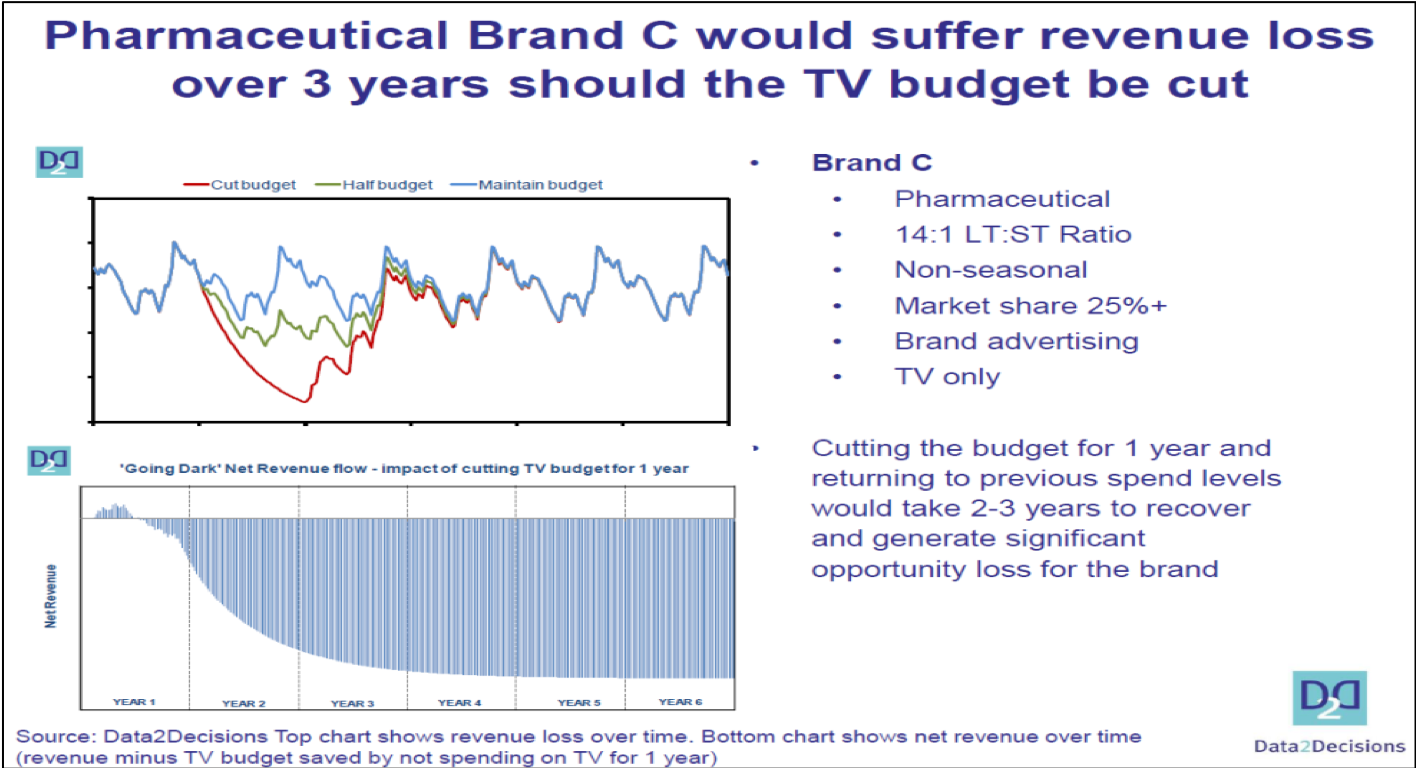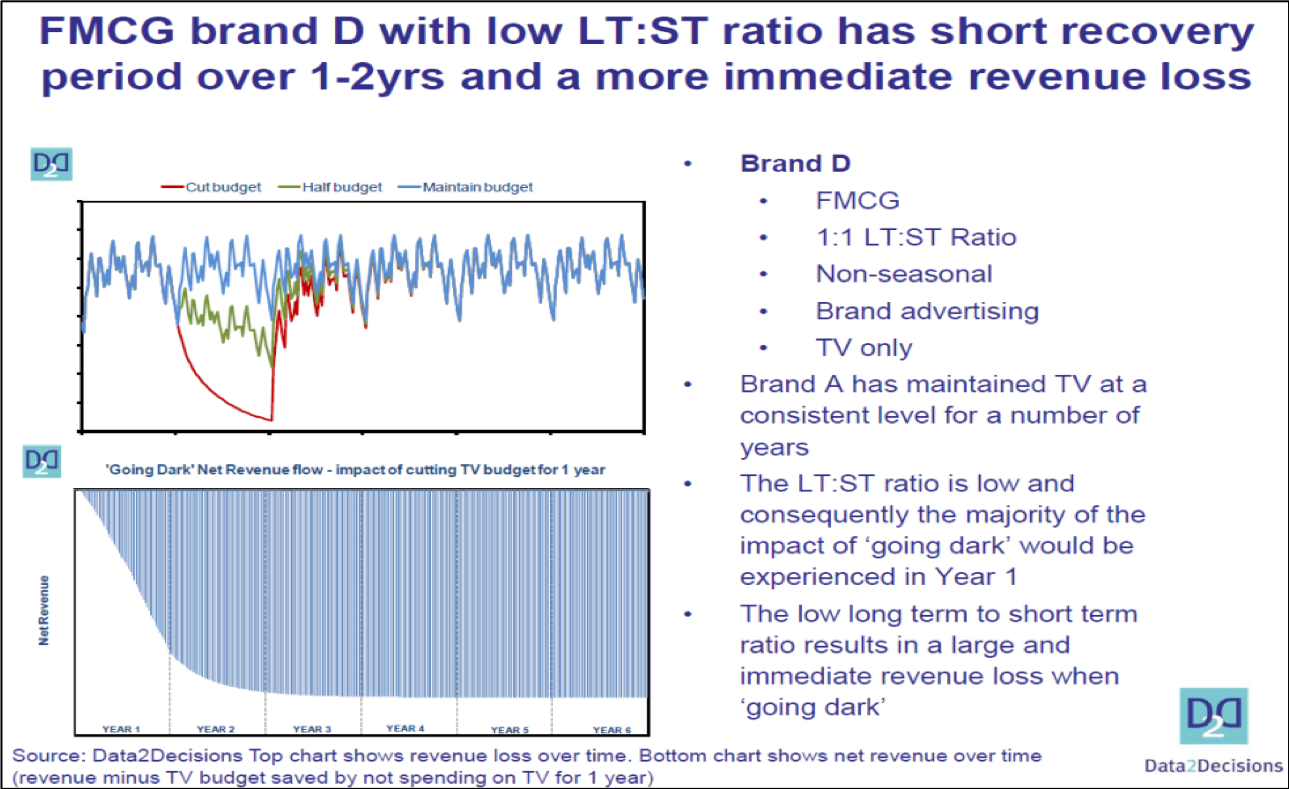 Brands that have a high short-term effect tend to be in highly competitive sectors, in highly seasonal investment patterns and in lower market shares. Conversely, brand leaders would have a greater effect of long-term advertising and recovering would therefore take longer.
Interestingly, in the current day and age, when we see the rise of the pureplay digital brands who are rapidly in growth, we would expect to see a similar pattern of result. Not advertising reduces growth rate and creates an opportunity for competitors – so whilst we'd expect a bias to short-term effect here, we create an opportunity for long term loss.
So, we expect an immediate loss as we reduce spend, but for brands biased to short-term effect, the majority of the pain happens in year's one and two. However, there is a critical dynamic here as we start to try and catch up. In year one we get a benefit to the bottom line from TV budget and production. This makes the net revenue loss in year two (as a proportion of the whole) more problematic, as we see no reduction in investment.
It's a long while since the last recession, and we've seen a few changes. More investment in short term media channels, and more investment in channels such as TV to deliver short term effect. However, Gain Theory's benchmarks, a profitability Study in partnership with ThinkBox, show the potential effect:
The report cites a channel mixed biased to broadcast AV delivers a greater performance over the long and short term, but our three-year loss from a period of darkness is greater.
Tracking the change
The growth of the digital economy has supercharged the competitive environment. As a result, we see negative trends in brand interest for many heritage market players. Media investment is therefore playing a critical role in fuelling growth or insulating against brand decline. In either of these cases we need to closely monitor brand health to predict when changes are likely to bite.
Using CCS planner, we created a nominal broadcast campaign, with a digital video maintenance phase, typically of that which many clients will use:

The campaign builds communications awareness, brand consideration and intent, however when the stimulus ends, we see the most rapid decline in comms awareness. Consideration and intent are slow moving measures – in essence they are customers who would buy if they were in market. Bursts of activity shift share of mind towards your brand, bring you top of mind and prompt the near to market customers through comms awareness. As the burst ends that share of mind is retained, but no near to market customers are prompted, and other brands have the opportunity to capitalise.
Kantar data backs this up, when time off-air is six months or less, brand health effects are minimal and in 40 percent of these cases, not affected. However, bigger brands are more likely to suffer a decline than smaller brands and longer periods off-air are much more likely to be damaging.
The course of action
Pragmatic planning in a negative environment is always going to threaten marketing budgets, and particularly long-term brand stimulus.
Clearly, the evidence suggests that avoiding dark periods minimises business loss over a one to three-year period.
However, if you need to reduce spend, you need to keep these effects as short as possible and seek efficiency elsewhere in the mix to bring brand stimulus back in line as soon as possible. Moreover, as we are seeing at the moment, challenging markets create opportunity from flexible media owners.
At Dentsu, we believe in a three-point strategy for brand growth:
1. Stimulate the brand and accelerate customer recruitment
2. Deliver positive customer experiences to maximise conversion
3. Invest in data-driven loyalty to build returns from the base
In the current market conditions, points two and three are where brands win, examining your brand values for opportunities to give back to the customer and pay forward future brand relevance. Brands need to ask the question – how can we help?
Whether its LVMH and Brewdog making hand sanitiser or Disney+ launching with a low-price introductory offer for a year's subscription, it seems that in the age of COVID-19, brand altruism is the smartest move to get you back in control.
If you would like to discuss the best approach for your brand in the current climate, contact Chris Ashworth on chris.ashworth@dentsu.com