AdGreen's Carbon Calculator Now Live for Advertising Industry
Published on: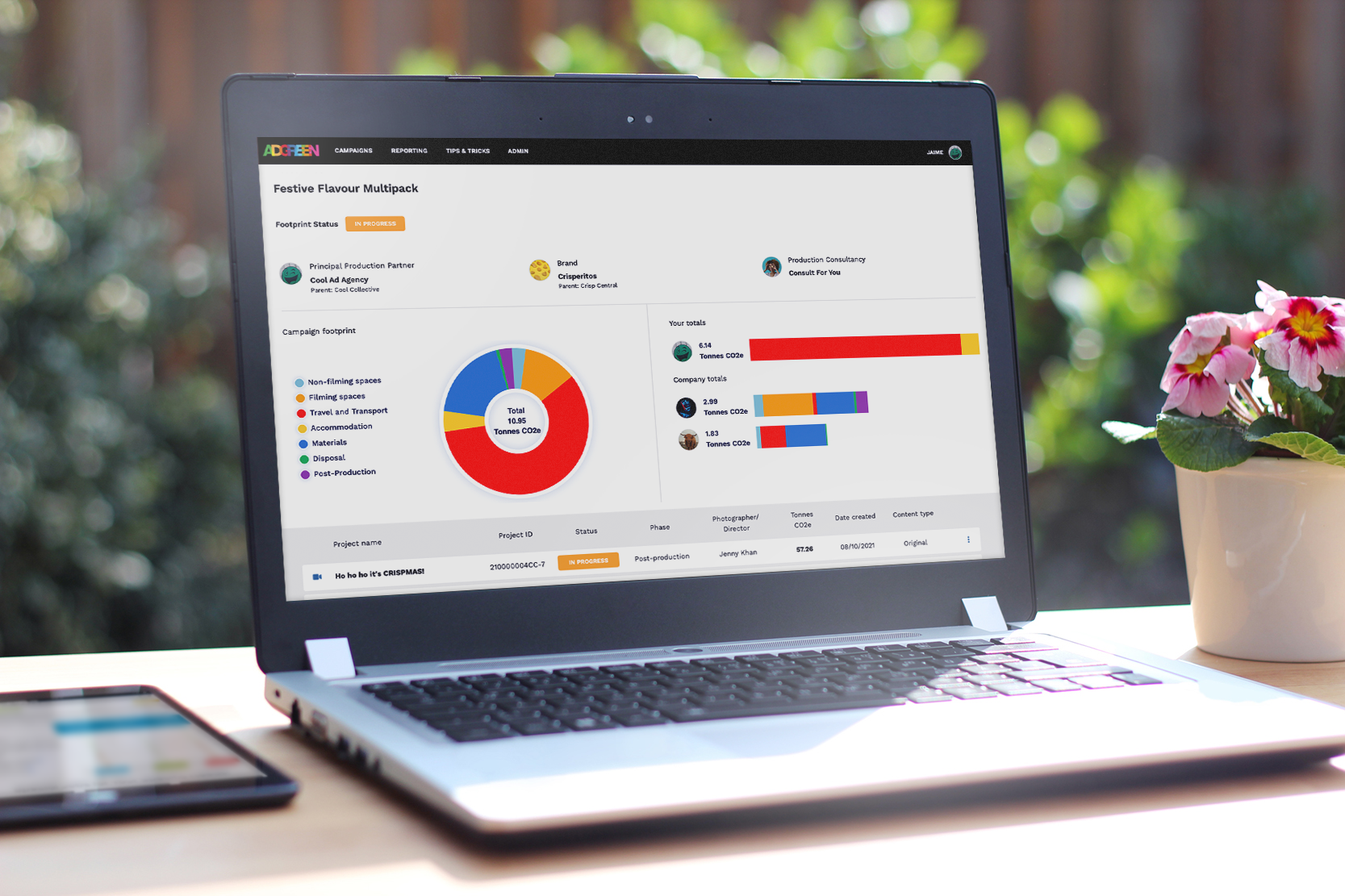 AdGreen's carbon calculator, created specifically for the advertising production community, goes live today, free at the point of use
The new tool allows production teams to collaboratively measure the carbon footprint of their production and take active steps to reduce it
More than 150 companies have already registered to use the tool and collect the levy
AdGreen has today launched its bespoke carbon calculator for the advertising production industry. The new tool, which has been designed with support from practitioners from companies including Unilever, adam&eveDDB and Biscuit. It will ensure advertising agencies, production companies and production service companies are able to collaboratively measure the carbon impact of their projects and identify the highest carbon producing activities.
The tool is free at the point of use, as the project is funded by the AdGreen levy – a 0.25% charge on production spend, paid by participating advertisers, and collected by their agencies before being passed to AdGreen each quarter. AdGreen is backed by a consortium of companies that comprise adam&eveDDB, APR (Advertising Production Resources), Dentsu, Google, Havas UK, MullenLowe, Publicis Groupe UK, Sky, WPP and Unilever. The need to track, measure and reduce carbon emissions involved in ad production is an essential part of Ad Net Zero, the UK advertising industry's plan to reach net zero by end 2030, which is advocating the use of tools like AdGreen's.
The calculator works by allowing users to enter information in 4 key areas that relate to a production. By inputting data related to activities such as travel and transport, energy and fuels, and materials and catering, users can build up a picture of the carbon impact of their production. The tool is designed so that everyone working on a project can help to add information into the tool allowing greater oversight and understanding of where the biggest carbon impacts lie.
Sebastian Munden, Chair of Ad Net Zero and EVP and General manager, Unilever UK & Ireland, said: "As advertisers, we have to take responsibility for the carbon emissions involved in ad operations and take rapid steps to reduce them. The AdGreen carbon calculator is a brilliant tool for every ad professional involved in the process of producing ads – we will be embedding its use into production of Unilever ads going forward. I urge everyone to register for the tool, collect the levy and embed the use of a carbon calculator like this in their working practices."
"We really hope this tool will be a game changer for the industry", said Jo Coombes, Project Director at AdGreen, "if we truly want to reach Net Zero then we need to start measuring and understanding our carbon impact. The information generated by this tool will help companies make informed decisions in relation to internal reduction targets and become more carbon literate in the process. Not only that but draft footprints can be created at script stage which will allow creative teams to see if they have inadvertently baked emissions into their scripts. Similarly, it'll mean that clients can see the carbon data on work they're commissioning and make informed decisions at the procurement stage."
The tool was designed by BAFTA Media Technology Limited who also built the albert Carbon Calculator for the Film and TV Industry. It cost £160,000 to develop and the hope is that as the levy supporter base grows, the tool can be developed further, incorporating bid process functionality so that projects can be compared by not just budget and treatment, but environmental impact too. A reporting dashboard will also be added in due course, allowing users to pull information required for company carbon reporting.
Sophie Broadbent, AdGreen's project manager added "This tool is really collaborative which makes it very exciting. It's been designed and built alongside those who will be using it, to make sure it's truly fit for purpose. Ad agencies, production companies and production service companies will be able to input data into the calculator, while brands, brand parents, agency holding companies and production consultancies will be able to review data to make decisions."
The calculator release follows on from the launch of the AdGreen Levy which was introduced in June 2021 as a way to help keep AdGreen's tools, resources and training free at the point of use for all. The Levy is a recommended 0.25% of the cost to produce an advertising asset – or just £2.50 per £1,000 of relevant spend.
Anyone interested in finding out more about the calculator is invited to join one of AdGreen's free webinars taking place over the coming week – more details can be found on their events page: https://weareadgreen.org/events
Ad Net Zero, the UK advertising industry's initiative to tackle the climate emergency, has made the tracking, measurement and reduction of carbon emissions in ad production a key action within its 5-point action plan. It is advocating the use of carbon calculators in the ad production process to its growing base of supporters across the advertising eco-system. The AdGreen carbon calculator will be showcased at the Ad Net Zero Global Summit which runs on November 3 and 4 – attendance is free and you can register to attend here.
-ENDS-
Notes to Editors:
For more information please contact: Genevieve Margrett genevievem@bafta.org or Matt Bourn matt.bourn@adassoc.org.uk
Users can register for the tool by visiting https://calc.weareadgreen.org
Further detail about the carbon calculator can be found here:
https://www.weareadgreen.org/carbon-calculator
Webinar booking link:
https://weareadgreen.org/events
About AdGreen
AdGreen unites the advertising industry to eliminate the negative environmental impact of production, enabling the community to measure and understand waste and carbon impacts, and empowering them to act for zero waste / zero carbon. We are part of the Advertising Association, working in partnership with BAFTA and Albert, and supported by leading industry players who share our vision. We have launched in the UK but with global ambition to enable the industry, wherever the activity is, to act for a sustainable future.
About the Advertising Association
The Advertising Association promotes the role and rights of responsible advertising and its value to people, society, businesses and the economy. Responsible businesses understand that there is little point in an advertisement that people cannot trust. That's why, over 50 years ago, the Advertising Association led UK advertising towards a system of independent self-regulation which has since been adopted around the world. There are nearly thirty UK trade associations representing advertising, media and marketing. Through the Advertising Association they come together with a single-voice when speaking to policy-makers and influencers.