Dentsu Ad Spend Report predicts second year of growth boosted by digital
Published on:
Advertising investment is forecast to grow by 9.2% globally in 2022, according to the latest dentsu Global Ad Spend Forecast report. The twice-yearly report which combines data from over 50 markets globally, anticipates US$745bn will be spent globally.
Moving towards a second consecutive year of growth following the 7.1% market dip in 2020, 2022 is projected to build on a stronger than expected recovery in 2021 which itself saw a record-high 17.0% growth, totalling US$682.5 billion in ad spend.
When compared to previous global financial and advertising crisis, notably the financial crash of 2008, this rebound is almost three times greater: in 2022 the growth forecast at 9.2% is nearly three times the 3.4% growth in 2011 – second year post global financial crisis. In 2022 the global ad market exceeds the 2019 pre-pandemic level of spend by 18.7%, whereas in 2011 the global ad market continued to be 1.0% lower than in 2008.
2022's first Quarter is anticipated to grow by 8.9% on a like-for-like basis, boosted by the Winter Olympics & Paralympics Beijing, while Q2 and Q3 are forecast to grow by 10.3% and 10.7% respectively, enhanced by mid-term election spend in the US expected to pick up from Q3 continuing into Q4. Towards the end of the year Q4 is forecast to grow by 9.2% on a like-for-like basis driven mainly by the FIFA World Cup Qatar and the holiday season.
Digital and television continue to be the two powerhouses driving global ad spend, yet with opposite dynamics. Following a 29.1% increase in 2021, dentsu forecast digital investment to grow by 14.8% in 2022, fuelled by video, connected TV, programmatic and e-commerce. This will result in the digital share of spend to 55.5% (US$408 billion) of the total ad spend, becoming twice as big as the television share of spend (26.9%) for the first time.
Linear TV ad spend increased by 7.9% in 2021, the highest rate since 2010, when the market re-bounded from the global financial crisis. In 2022, dentsu forecast linear TV ad spend to grow by 3.8% to reach US$198 billion. Unlike digital and despite staying in high demand, dentsu is seeing linear TV share of spend on the decline as Connected TV and Video on Demand (VOD) grow.
Out-of-Home (OOH) and cinema will both see encouraging double-digit growth in 2022 (respectively 12.8% and 23.4%), with OOH even exceeding 2019 pre-pandemic spend levels. Radio too is forecast to grow, yet at a slower pace (2.0%). As with previous predictions, ad spend in newspapers and magazines will continue to decline.
The industries who will see growth in ad spend this year will include the beleaguered Travel sector which is forecast to see an 10.3% rise. There is also confidence the Automotive advertising spend will grow by 7.6% in 2022. Growth follows a 11.5% increase in 2021 and steep declines in 2020 of –15.9%. With pent up demand and a trend towards personal vehicles in how people want to travel post pandemic, there is confidence in the recovery of the Automotive sector.
Looking further ahead, global ad spend is predicted to grow by 4.6% in 2023 and 5.8% in 2024 – in line with growth before the pandemic (4.1% in 2019). Digital is forecast to increase its share of spend domination, approaching 60% in 2024 (59.4%). Of course, many factors contributing to the uncertain economic outlook could influence the predictions, from the evolution of the pandemic to supply chain issues, and dentsu recommend the industry keep a close eye on key economic indicators.
Peter Huijboom, Global CEO Media and Global Clients, dentsu international said: "The bounce back from the early pandemic impact continues to be strong, especially in digital. As we spend more time consuming digital media, brands have the opportunity to tap into the increased flexibility in which consumers engage through multiple touchpoints. Businesses who truly understand these developed human behaviours have the best opportunity to build lasting relationships with them.
"It also comes as no surprise of the increased popularity in gaming. Dentsu launched its global gaming proposition in 2021. Along with the burgeoning Metaverse, there has never been a more exciting time for brands to experiment, innovate and engage with their customers - as all forms of media are increasingly more central to daily life and routine."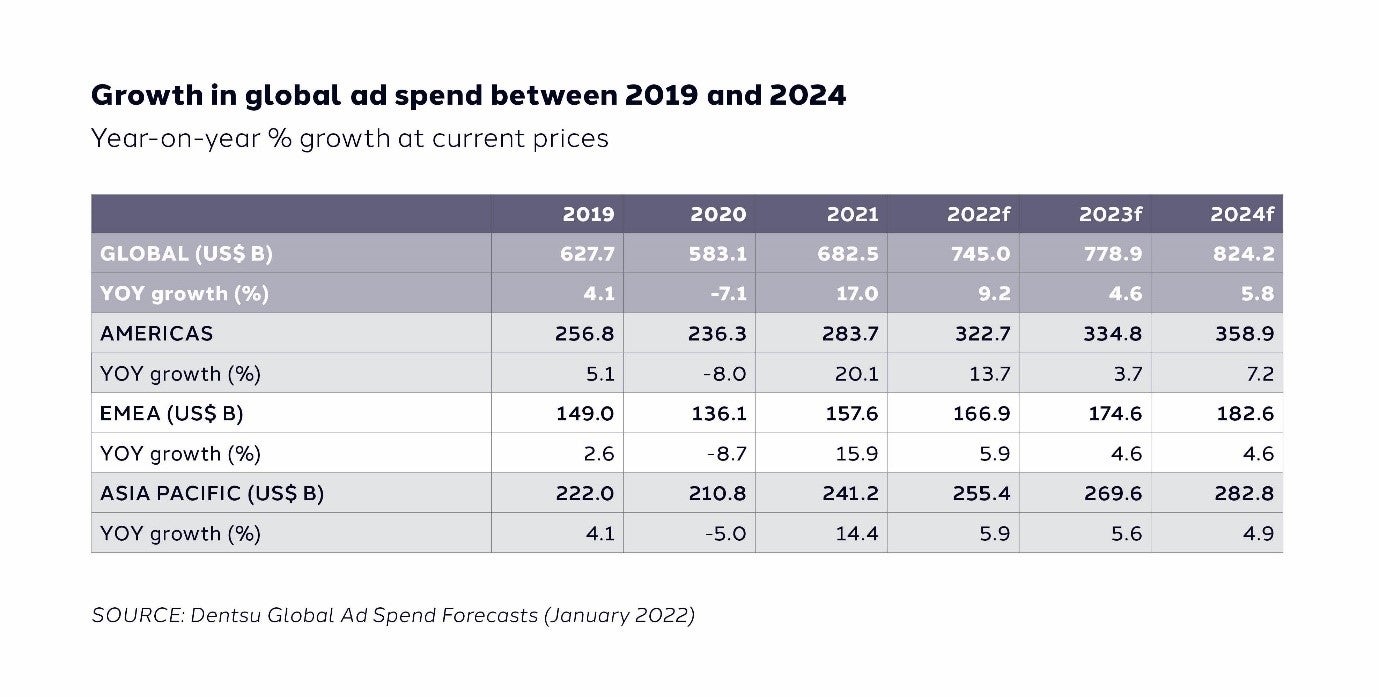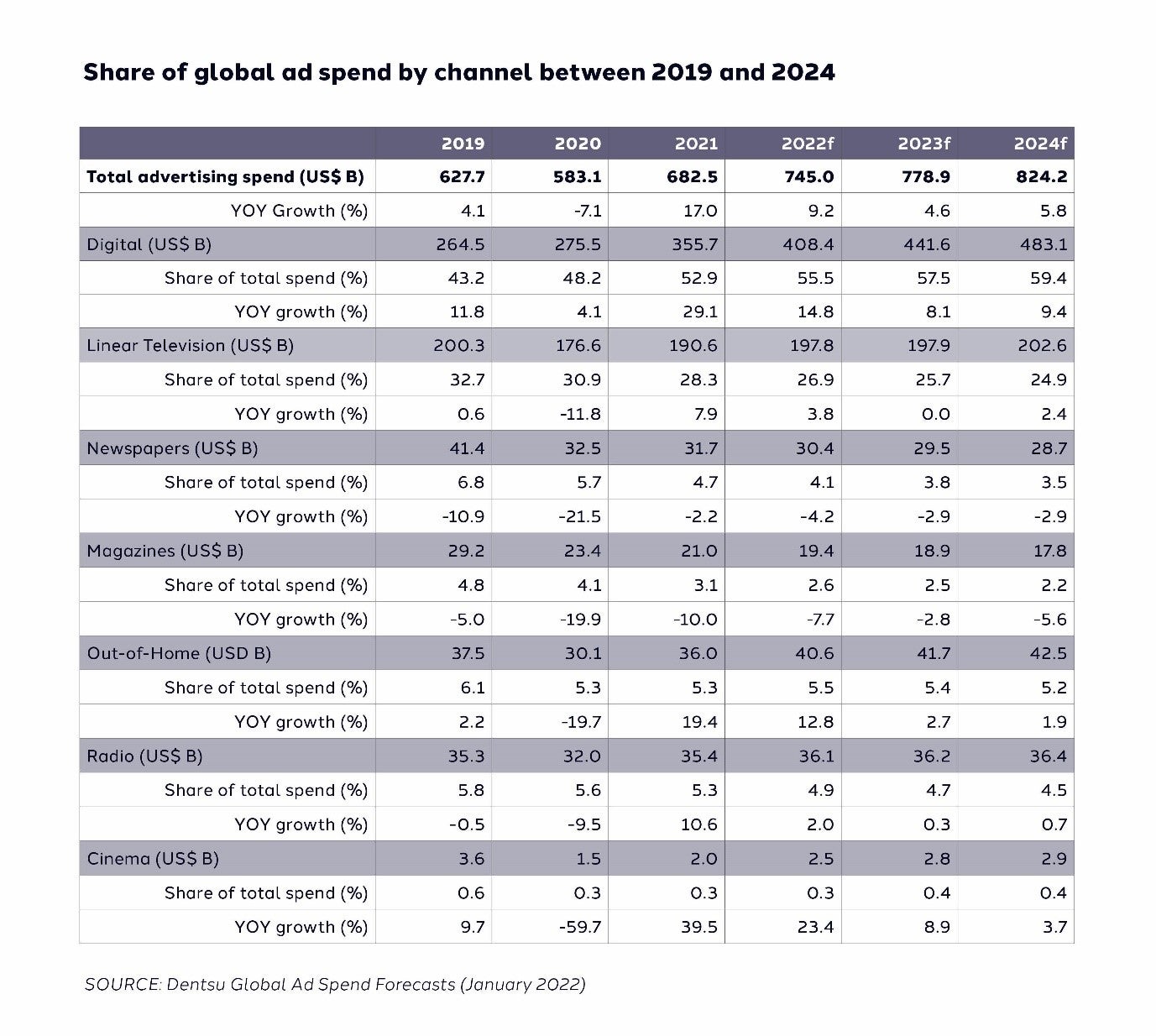 The dentsu Ad Spend Forecast Report - January 22 can be viewed here.
-ENDS-
PRESS CONTACTS
John Mayne / +44 (0)7929 856 435
john.mayne@dentsu.com / media.pressoffice@dentsu.com
NOTES TO EDITORS
*OECD, OECD Economic Outlook, Volume 2021 Issue 2: Preliminary version, Table 1.1 - December 2021

About the dentsu Ad Spend forecast:
Advertising expenditure forecasts are compiled from data collated from dentsu brands until the second half of December 2021 and based on local market expertise. Dentsu uses a bottom-up approach, with forecasts provided for 59 markets covering the Americas, Asia Pacific and EMEA by medium: Digital, Linear Television, Print, Out-of-Home, Radio & Cinema. The advertising spend figures are provided net of negotiated discounts and with agency commission deducted, in current prices and in local currency. For global and regional figures, figures are centrally converted into USD at the November 2021 average exchange rate. The forecasts are produced bi-annually with actual figures for the previous year and latest forecasts for the current and following years all restated at constant exchange rates.
About dentsu international:
Part of dentsu, dentsu international is made up of six leadership brands - Carat, dentsu X, iProspect, Isobar, dentsumcgarrybowen, Merkle, and supported by its specialist brands. Dentsu International helps clients to win, keep and grow their best customers and achieve meaningful progress for their businesses. With best-in-class services and solutions in media, CXM and creative, dentsu international operates in over 145 markets worldwide with more than 45,000 dedicated specialists.
www.dentsu.com