Dentsu strikes media partnership with sustainable ad platform WeAre8
Published on:
Dentsu UK&I and WeAre8 today announce a brand-new partnership, representing the revolutionary sustainable ad platform's first-ever trading partnership with a UK media agency group.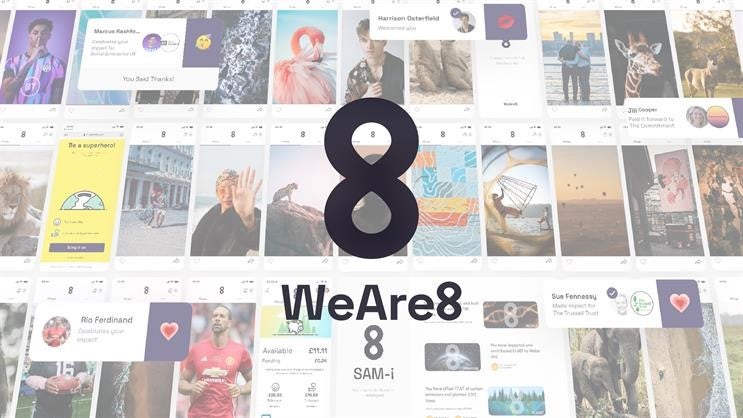 Brokered by Amplifi - the UK arm of dentsu's media investment division, the new partnership enables clients to achieve transformational media results through WeAre8's Sustainable ad buying engine, whilst delivering against their environmental, social and governance (ESG) and sustainability goals.
Additionally, by moving just 6.5% of their digital media budget through WeAre8's platform, advertisers can ensure their entire digital spend is carbon neutral.
WeAre8 is on a mission to mobilise a billion people and thousands of brands to solve the world's biggest problems, so 55% of every pound advertisers spend on WeAre8 is shared directly with people and charities, with another 5% going to a creator fund to fuel micro shows, collaborations and monthly challenges on the 8Stage – a hate-free evolution of the social feed.
Dentsu and WeAre8 are united in their shared ambition to create positive social impact through their core business. This new partnership reflects dentsu's commitment to offering clients sustainable and effective media activations, as well as to help a billion people globally make better, more sustainable choices whilst reaching a billion people with campaigns that promote equality by 2030.
The partnership not only provides dentsu clients with a new sustainable ethical addition to their mainstream media plan that delivers measurable impact, but WeAre8 is at the forefront of the attention economy as their ad delivery solutions guarantee attention and engage people in a personal, respectful and more humane way.
Their unique ability to build relationships and ask questions after someone watches an ad has never been possible before in ad delivery. On WeAre8, ads are delivered on people's terms – they view them when and where they want and know they are respected and changing the world with every view.
Steve Ballinger, Amplifi President, UK said: "At Dentsu UK&I we are on a mission to give clients the opportunity to engage with their target audiences in new and authentic ways whilst having a positive impact on the world. This exciting partnership with WeAre8 is a perfect example of our commitment and we can't wait to engage with clients on how they can build this sustainable ad-platform into the media mix."
Sue Fennessy, Founder and CEO, WeAre8 said: "We are very excited to announce this trading deal with dentsu as we scale in the UK and globally. Dentsu are deeply committed to people and the planet and know it is a myth that you need to sacrifice business results to do good. Our technology puts people and the planet at the core of the digital ad ecosystem, enabling brands to deliver ads in a carbon-negative way while getting the full attention of the people they want to reach. We are excited to deliver this to dentsu clients. "
This marks the beginning of a bespoke partnership between the two companies that sees WeAre8 collaborate with dentsu Belonging to drive positive change across six key pillars including ethnic diversity, gender equality, LGBTQ+, mental and physical wellbeing, parents and carers and differing abilities.
It furthers dentsu's work in sustainability and diversity, equity and inclusion (DEI) initiatives which also includes 'together' - a pioneering DEI proposition that allows brands to make more authentic connections with diverse audiences across the country. The together proposition goes beyond a classic mainstream media plan and is focussed on building long-term relationships with a wider pool of diverse publishers and increasing brands' understanding of under-represented groups.
Ends.
- ENDS –
For further information, contact:
Claire Cumberland, Head of Corporate Communications, dentsu UK & Ireland
07894 607 983
Gracie Bennett, Kibbo Kift Agency weare8@kibbokiftagency.com
Notes to editors
About Weare8
WeAre8 is a hate-free social app that inspires people with great content and gets money into their pockets every time they watch an ad, and where they join millions of people to change the world in just two minutes a day. WeAre8 exists to bring power back to people and the planet.
Redefining social media, WeAre8 marks a new era of online connectivity by having a feel-good factor at its core. Its 8 community opts in to watch brand ads over the top of an immersive feed - the 8Stage - which is full of exclusive content from the most inspiring celebrities and personalities, enabling them to earn up to £1 per day. With an earning and donation mechanic built into its advertising model, WeAre8 facilitates a positive impact for its users by uniting them with everyday changemakers to create tangible change that helps tackle the world's most pressing environmental and social issues.
As an advertising platform, WeAre8 enables users to reclaim their economic value and protect the planet, rewarding users for their time and donating to charitable causes every time they watch an advert. For every £1 spent by brands, 61p is diverted to consumers and ethical causes.
By putting people and purpose first, instead of profiteering, WeAre8 also combats the existing wasteful and inefficient online advertising delivery process by offering brands 100% engagement and transformational insights through user questionnaires.
Media tech entrepreneur Sue Fennessy leads WeAre8 with a mission to make it easy for brands to redirect billions of dollars of advertising spend back to people and the planet in a way that drives better business results.
In 2020, WeAre8 was certified as a B Corporation, confirming the company meets the highest standards of social and environmental impact.
TikTok: @WeAre8Official
LinkedIn: www.linkedin.com/company/weare8
Twitter: @WeAre8Official
Instagram: @unitedforgoodofficial
Media Contacts: Gracie Bennett at Kibbo Kift Agency weare8@kibbokiftagency.com