In our regular series five minutes with, we catch up with parents and carers across our network to hear how they are adjusting to life working from home.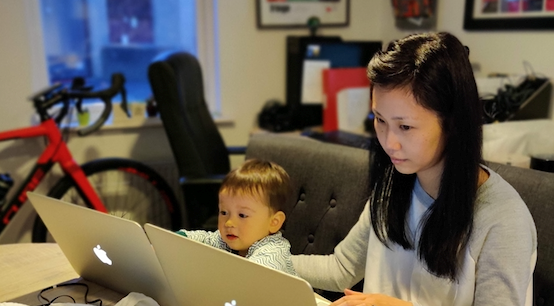 Kelly Ling, Associate Director for Presto shares tips and tricks for new daily routines.
What new processes or routine have you adopted whilst working from home and taking care of your child / children?
I have a 16 month old son and my husband works freelance as a digital producer. With current situation, the frequency of work has died down for my husband which has proven to be beneficial for my work pattern.
Having a 16 month old in the flat for a full day can be overwhelming with all the noise and attention seeking tactics happening in the background whilst I work. As such, my day is split morning and afternoon between two rooms – morning commences in my son's bedroom where there's more privacy and I schedule most client and important calls then, whilst my husband and son use the sitting room and can make as much noise as possible. Come the afternoon, we switch rooms so that my son can use his bedroom for napping and playing. This change of environment prompts me to take a break, get active, have lunch etc It also helps simulation for my son, being in a different environment and having different activities in each room.
Every work day ends with a 15-20 mins catch up with my team where we all get together to have a bit of banter and laugh, share how our day has been, share tips and latest entertainment and in-door activities ideas – Netflix show, recipies or even which grocery store has just restocked on toilet roll and flour! My son often makes a guest appearance on this call and it brings on smiles and laughter for everyone.
What are you finding most surprising about your new routine?
I didn't realise how much thinking I used to do on my daily walks into the office and back and how much I would miss the walks. To compensate for this, I try my best to get out at lunch time to get as much walking in which also acts as my daily exercise.
Relationships with some of colleagues and clients have reached a new level of comfort – having meetings with video turned on and seeing everyone in their casual clothes is refreshing and personal.
I usually travel quite a bit for work so I am also extremely grateful for the time I'm currently having at home, be that sharing a cuppa tea with my husband or playing with my son during lunch time.
Do you have any tips or ideas for other parents or carers across Dentsu to help with their daily routines?
I've found that having an activity to signify the end of my working day helps me switch off from work. I use bath time with my son as a reminder that it's "home time" – I pack up my laptop and work station and finish for the day.
Don't be so hard on yourself to get everything done perfectly, we are all super heroes doing our best everyday, and that should be enough.