Dentsu achieves Silver at Mind's Workplace Wellbeing Awards
Published on: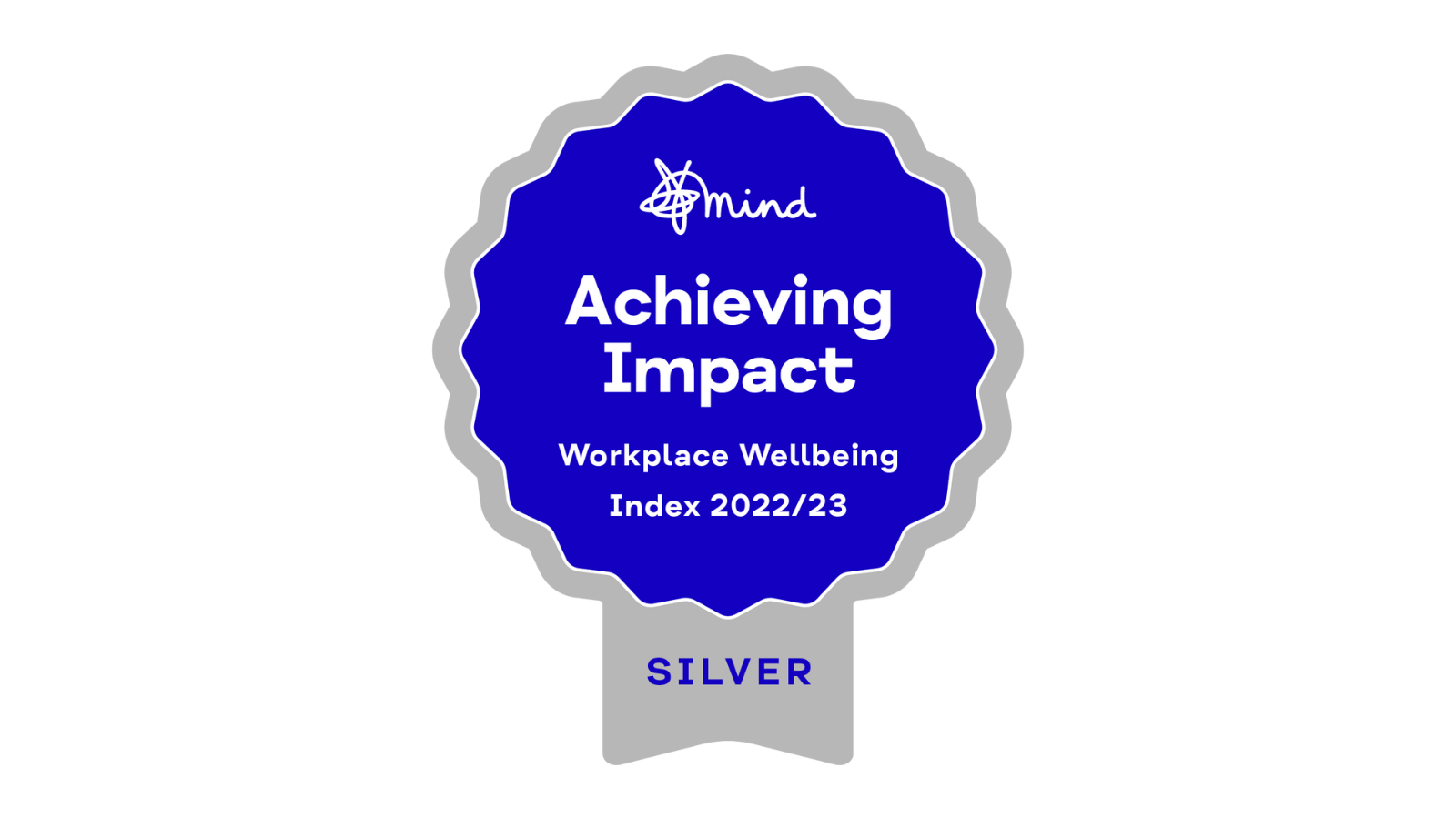 Dentsu UK has been recognised at an awards ceremony for its commitment to workplace wellbeing.
dentsu was one of 61 organisations to take part in Mind's seventh annual Workplace Wellbeing Index, and was recognised with a Silver Award, meaning we have made demonstrable achievements in promoting staff mental health in the workplace.
Mind's Workplace Wellbeing Index is a benchmark of best policy and practice, celebrating the good work employers are doing to promote and support positive mental health, and providing key recommendations on the specific areas where there is room to improve. This year, Mind surveyed almost 16,000 employees across the 61 employers participating in the Index.

The 2022-23 Index Awards, hosted by Mind's CEO Sarah Hughes, took place on 29 June and saw people from a wide range of organisations across sectors come together to celebrate their achievements.

The Index has also seen a mix of returning organisations eager to assess the impact of their newly implemented wellbeing initiatives as well as first-time organisations starting their journey to improve employee wellbeing.
Anne Stagg, CEO - CXM at dentsu UK&I, and UK CEO, Merkle & Chair, DEI Council, commented: "To be recognised for the second year in a row in Mind's Workplace Wellbeing Index is a fantastic achievement and credit to our Wellbeing Collective. From providing 3 additional days of leave as Wellbeing Days, to including Neurodiversity diagnosis and support, Gender Identity cover, Cognitive Behavioural Therapy, Career Coaching, and upskilling across financial, emotional, physical, and social wellbeing, our Collective is dedicated to make dentsu a place where everyone can be their full selves and thrive, creating a healthy workplace culture and fostering belonging. As leaders, we have a collective responsibility to normalise the conversation around mental health. I call on my peers to be bold, be brave, and lean in with authenticity and vulnerability in how they speak with and lead their teams."
Andrew Berrie, Head of Workplace Wellbeing at Mind, said:
"Following the profound changes to working life brought on by the coronavirus pandemic, many organisations have spent the previous year reflecting on the changes in ways of working that have been beneficial, whilst seeking to navigate new uncertainties and external factors impacting mental health and wellbeing.
I find it encouraging to see that mental health outcomes at work appeared to bounce back post-pandemic. The pandemic increased focus and expedited workplace wellbeing agendas, with more attention given to implementing mental health and wellbeing initiatives at work.
We are now experiencing the positive effects of this effort, with more employees reporting that they had good or very good mental health and fewer stating they experienced a mental health problem in their present role.
The organisations participating in our Workplace Wellbeing Index are, undoubtedly, leading the way in their work to assess the impact of their efforts. By consulting with their people on what is working and where they could improve, and embedding best practice, they are prioritising employee mental health and wellbeing.
Despite these positive findings, there are worrying trends which threaten the future state of mental health in the workplace. Organisations appear to be experiencing 'wellbeing fatigue', with mental health and wellbeing beginning to make fewer appearances on strategic agendas. With the effects of recession on the horizon and the present cost-of living crisis, there is a danger that workplace wellbeing may fall out of focus, something which has already begun to have a negative impact.
We also recognise that stigma remains a significant challenge and is likely to be growing in the midst of economic hardship. Already, fewer employees are disclosing mental health problems to their employers and fewer are being honest when mental health has been a reason for absence.
With all of this in mind, there is a growing and pressing need for employers to reassert their commitment to employee mental health and invest in workplace wellbeing, in a way that addresses current challenges and the unique circumstances and experiences of staff."
To register your interest in taking part in next year's Workplace Wellbeing Awards, please visit mind.org.uk/index
Continued:
Notes to editors:
Press contacts:
Reach out to us via our Contact Us page for more information.
About dentsu
Dentsu is the network designed for what's next, helping clients predict and plan for disruptive future opportunities in the sustainable economy. Taking a people-centred approach to business transformation, dentsu combines Japanese innovation with a diverse, global perspective to drive client growth and to shape society.
https://www.group.dentsu.com/en/
About Mind and its Workplace Wellbeing Awards:
We're Mind, the mental health charity. We provide advice and support to empower anyone experiencing a mental health problem. We campaign to improve services, raise awareness and promote understanding. We won't give up until everyone experiencing a mental health problem gets both support and respect. mind.org.uk
Mind has a confidential information and support line, Mind Infoline, available on 0300 123 3393 (lines open 9am - 6pm, Monday – Friday)
Mind's Workplace Wellbeing programme aims to help people understand and start talking about the costs of neglecting mental wellbeing in the workplace.
Mind offers free resources for employers to help improve mental wellbeing and employee engagement: www.mind.org.uk/workmind.org.uk/work
Mind's income has been affected by the outbreak of coronavirus, largely due to the temporary closure of our charity shops across England and Wales, and the cancellation or postponement of major fundraising events. To help us continue our vital work, donate to our emergency appeal: www.mind.org.uk/donate
Mind's Workplace Wellbeing Awards recognise and celebrate the good work employers are doing to promote staff mental wellbeing. Forward-thinking employers can get involved in next year's by visiting mind.org.uk/index