Dentsu moves into new Manchester hub in Enterprise City
Published on: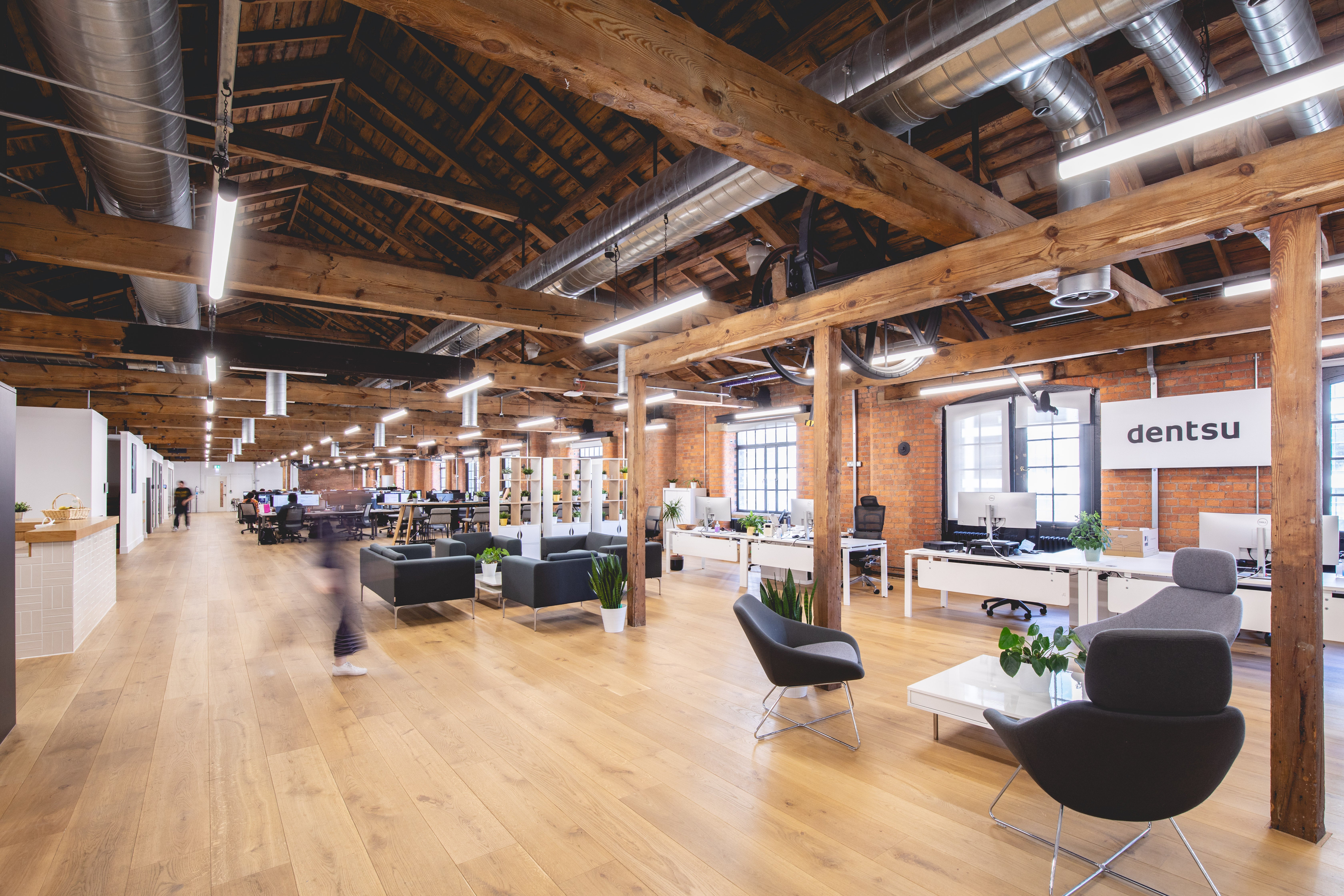 This month, dentsu opens its new Manchester hub at Bonded Warehouse in Enterprise City. The move marks an exciting new chapter for the company as it joins the innovative new community at the heart of the city's media, creative and tech industries.
The modern warehouse space is deliberately designed to foster collaboration and innovation and dentsu is bringing together people from across the network's central teams and its agencies – including Carat, iProspect, dentsu X, Merkle and Dentsu Creative, on one floor.
The relocation follows over 25 years on Portland Street and represents dentsu's dedication to flexible, hybrid ways of working which are enabling its people, clients and partners to enjoy brand new, state of the art facilities, including a recording studio, café, restaurant, cinema room, gym and more.
The new space is powered by 100% renewable energy, in line with dentsu's commitment to future-proof its energy strategy and accelerate delivery of its Net Zero ambitions.
dentsu was the first in the industry to achieve RE100 status, operating globally on 100% renewable energy and one of the first seven companies in the world to have its net-zero target verified by the SBTi, setting a benchmark for corporate net zero commitments.
Angela Tangas, dentsu UK&I CEO said: "We're incredibly proud to build on our strong heritage in Manchester by bringing our teams together as part of Enterprise City's booming, modern industry community.
"As a people-centred business, we know that flexibility is a top requirement for many at dentsu and we remain committed to flexible, hybrid ways of working and creating environments where everyone can thrive. The new space provides an exceptional and environmentally friendly new workplace experience for our teams, with fantastic facilities for when they come together in person as well as with clients and partners."
dentsu recently launched its new flagship event series Seichō in Manchester where Angela Tangas set out her vision for the UK&I business, including getting closer to the company's Japanese heritage.
Ends.
Press contacts:
Reach out to us via our Contact Us page for more information.
About dentsu
Dentsu is the network designed for what's next, helping clients predict and plan for disruptive future opportunities in the sustainable economy. Taking a people-centred approach to business transformation, dentsu combines Japanese innovation with a diverse, global perspective to drive client growth and to shape society.