Dentsu UK rallies major brands to stand against hate in collective LGBTQ+ Pride solidarity campaign
Published on: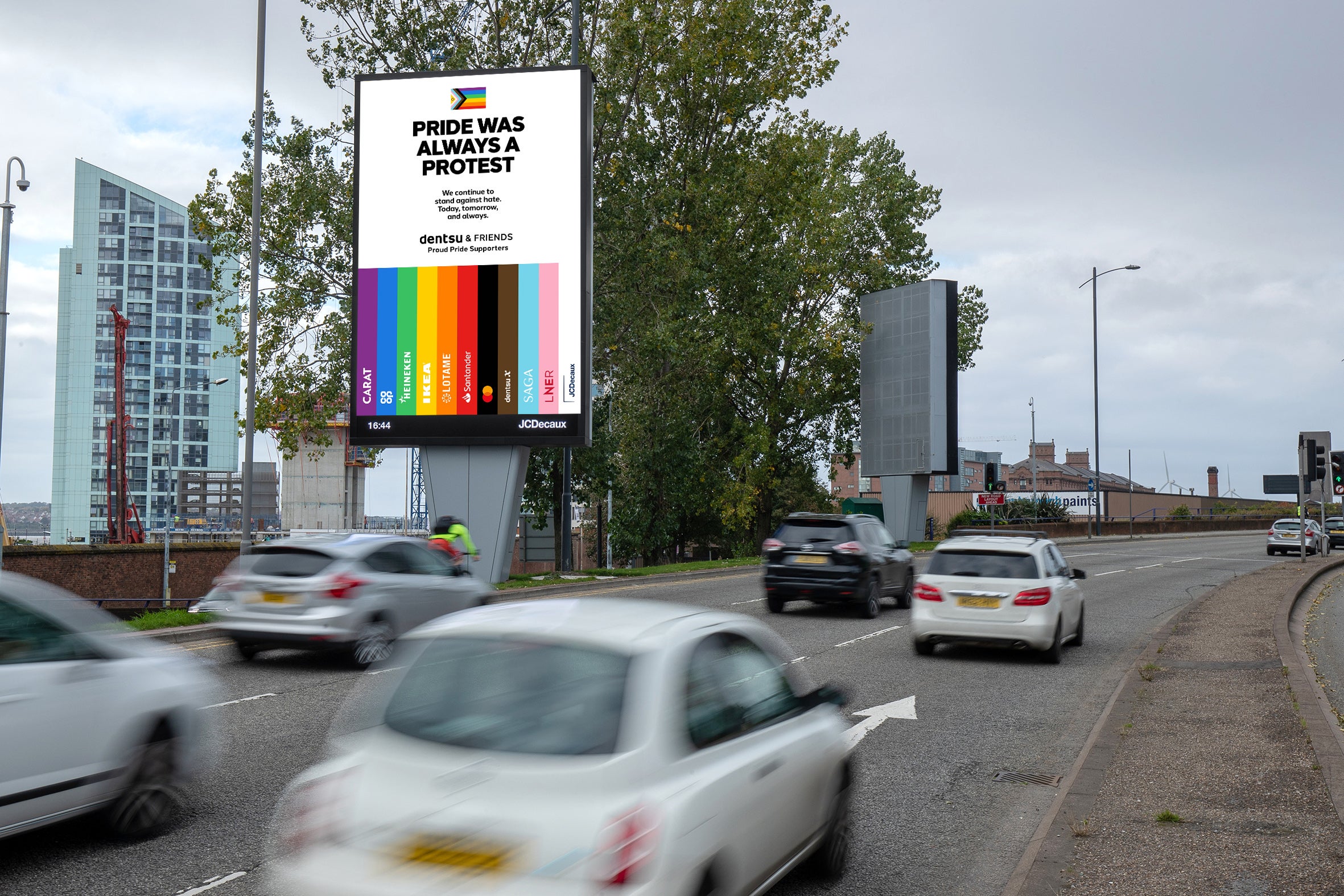 Dentsu UK today reveals a brand new DOOH campaign 'dentsu & Friends', running across the UK throughout June in support of Pride.
Partnering with OOH advertising leaders Clear Channel UK and JCDecaux UK, dentsu has secured advertising space estimated to reach around 10 million people for its unique 'dentsu & Friends' pride flag.
Rallying a stellar line up of household name brands to stand in unity against hate and under the rainbow flag, the campaign sees brands deliver a shared message of support, rather than compete for share of voice during Pride month.
The important message behind the UK campaign: Pride was always a protest, is intended to act as a reminder that pride is not just a party, and despite progress in recent times there are still many challenges faced by the LGBTQ+ community, particularly for trans men and women, and those who identify as non-binary.
Brands taking a stand alongside dentsu include IKEA, HEINEKEN UK, Santander, Lotame, Co-op, Mastercard, SAGA and LNER, with all participating encouraged to donate to a charity supporting LGBTQ+ causes, such as a youth LGBTQ+ organisation, a homeless LGBTQ+ youth charity, and a charity supporting gender diverse youth and their families. Dentsu will match fund the highest brand donation.
The new campaign is inspired by dentsu Italy's 2021 original collaborative Pride campaign. Dentsu is gathering support across EMEA by running the new campaign across several other markets in the region.
Angela Tangas, dentsu UK&I CEO said: "Brands, businesses and society all thrive on diversity – it's a strategic imperative for growth, innovation and a sustainable economy. As a people-centred business, at dentsu we're focussed on bringing all dimensions of inclusivity to life everyday – for our people to feel safe to bring their whole selves to work and feel a sense of belonging and community, as well as in the ways we support our clients to meaningfully connect with their consumers, customers and employees.
"We're incredibly proud to launch dentsu & Friends together with our media partners and clients, standing united in the importance of supporting the rights of the LGBTQ+ community."
"Lisa Edgar, Chief Insight Officer, Saga said: "Representation matters. At Saga, we champion the many millions of people over 50 - and the diverse experiences that exist within that age bracket. Older people are not a homogenous group – there are over a million people over 50 who are members of the LGBTQ+ community, and it's right that we see and hear them. We are proud to stand together with dentsu & Friends to champion all the LGBTQ+ community – through Pride month and beyond."
Andy Monfried, Founder & CEO, Lotame said: "Diversity and inclusion are core to Lotame's company culture, and we're honored to join dentsu & Friends' Pride celebration. This month is a fantastic opportunity to focus our collective efforts on supporting the unique experiences of diverse staff which, at Lotame, is a year-round commitment. We strive to create a workplace — and an industry — where every individual feels empowered to share their authentic selves and achieve their full growth potential, which can only happen in an environment of inclusiveness, transparency, and collaboration."
This year, as part of Pride Month, dentsu EMEA is continuing its Visible Voices series that celebrates the LGBTQ+ community by making their voices visible and stories heard. The short film follows the lives of four dentsu people from the LGBTQ+ community and the challenges they face navigating the political and societal landscapes of today. Carrying on the 'pride is a protest' narrative, the film also highlights some of the practical support the company offers, for example, with gender transition care in the UK through a private healthcare provider.
Ends.
Press contacts:
dentsu UK&I - Claire Cumberland, Claire.cumberland@dentsu.com
Notes to editors
About dentsu
dentsu is the network designed for what's next, helping clients predict and plan for disruptive future opportunities in the sustainable economy. Taking a people-centered approach to business transformation, dentsu combines Japanese innovation with a diverse, global perspective to drive client growth and shape society.
As a leading global advertising and marketing agency, we are in the unique and privileged position to be a force for good for our colleagues, clients and communities in which we live and work. We aspire to drive positive systemic change and be 'Champions of Meaningful Progress' in all that we do, particularly through our strong commitment to Diversity, Equity and Inclusion (DEI), and are committed to fostering a diverse and inclusive environment for our people. At dentsu, we believe that celebrating and cultivating diverse perspectives and individuality across our business, creating a fair and equitable workplace representative of the societies in which we operate, is key to our success. We aim to champion true equality, for all, regardless of background or identity.
About Clear Channel
Clear Channel is one of the UK's largest Out of Home media and infrastructure companies, operating more than 33,000 advertising sites nationwide and employing more than 600 people in 14 locations. The company's stated purpose is twofold: To be a Platform for Brands & a Platform for Good - delivering advertisers' media objectives whilst positively impacting the world around us. Clear Channel is committed to delivering effective advertising solutions for global brands and local advertisers while making a positive contribution through its own ventures and partnerships across many community, environmental and social projects.
https://www.clearchannel.co.uk/
About JCDecaux
JCDecaux is the global leader in outdoor advertising, operating in 3 areas of business: street furniture, transport advertising and billboard advertising. JCDecaux designs, installs and maintains a range of free or low-cost services for the benefit of cities, residents and travellers, including bus shelters, self-service bicycle schemes, passenger information panels and mobile charging terminals. These services are financed by advertisements that are located in busy thoroughfares, such as airports, metro systems, bus systems, trains and light rail, thereby offering brands maximum visibility.