DAZN Group launches new global brand campaign
Published on:
'Game. Changed.' signals a new direction for the leading global sports streaming service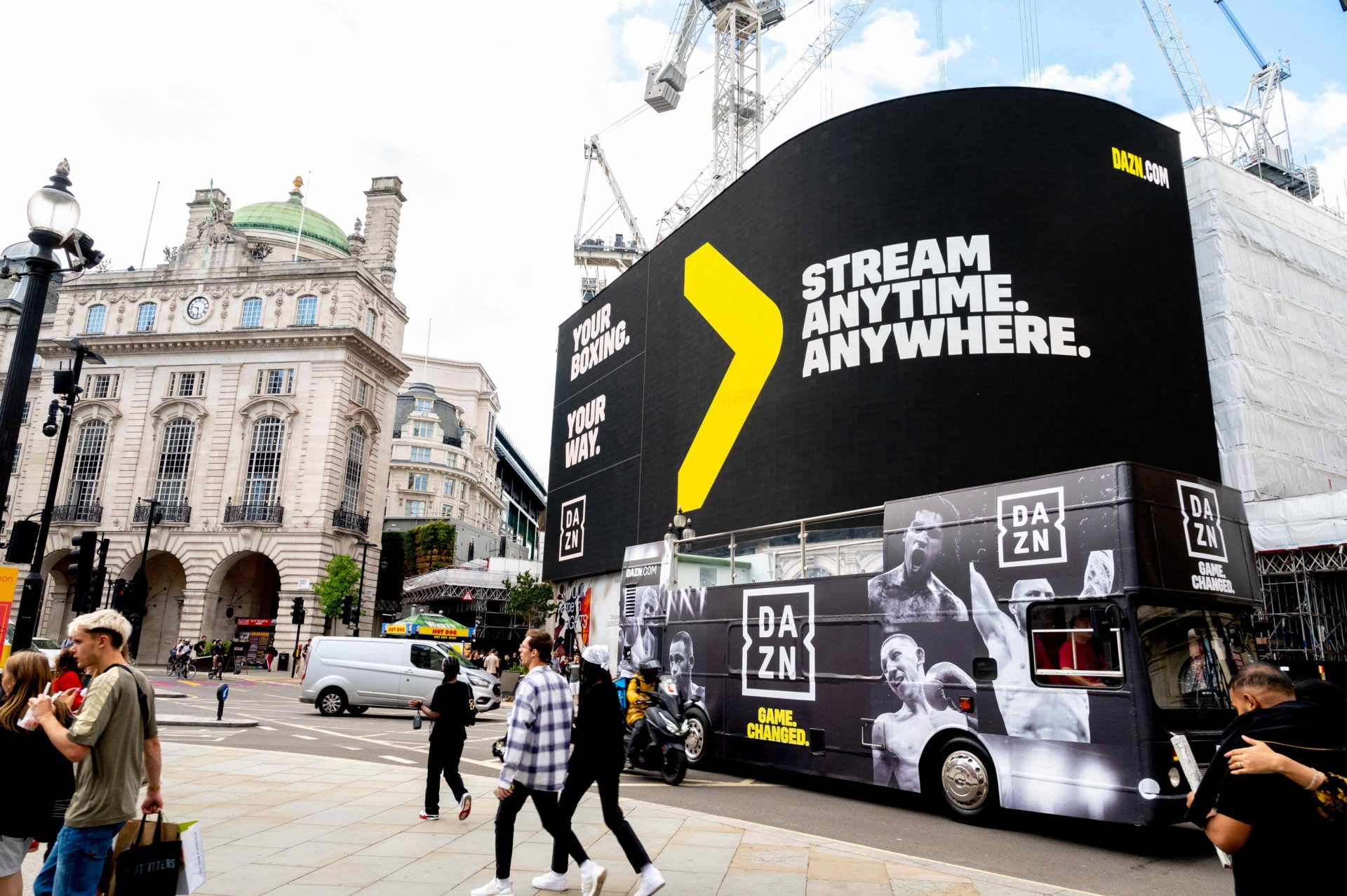 DAZN, working with its global media and creative partner, dentsu international, has marked its arrival in the sports streaming service's home ground – the UK & Ireland – with an explosive new brand identity 'Game. Changed.', launching today. The campaign is also rolling out globally, with dedicated campaigns in Germany, Austria, Switzerland, Italy, Japan and Canada.
DAZN is the leading global sports streaming service, a ground-breaking live and on demand sports streaming platform, giving fans a more accessible and flexible way to watch sport, their way. Fans don't need a cable or satellite dish to watch it, so the setup is quick and simple. Simply download the DAZN app and watch on any connected device at home or on the go, all for an affordable price. 
Since launching in 2016, the UK-founded company has expanded its presence to 200+ countries and territories around the world and launched its global platform in December 2020. This marked DAZN's entry into the UK & Ireland with a line-up of world championship boxing. Its landmark five-year deal with Matchroom Boxing will now see DAZN deliver its nonstop schedule of Matchroom UK fights to fans in the UK & Ireland exclusively, and forms part of a joint, long-term commitment to grow boxing around the world and help the sport reach new heights. DAZN also recently announced that it has acquired global rights to broadcast the UEFA Women's Champions League and has been awarded host broadcaster duties for the next four seasons, from 2021-25.
The new brand platform, 'Game. Changed.', was created by dentsumcgarrybowen and employs a brave and confident tone. Building on previous work featuring DAZN's impressive content catalogue, the new creative focuses on the ways in which the brand is innovating to liberate sports fans from the restrictions of previous technology and business models. It marks a substantial shift away from a fixture-based marketing strategy to a unified brand approach that will strengthen DAZN's emotional connection with fans. 
The first UK campaign under the new brand is a fully integrated campaign that will run across Cinema, OOH, VOD, radio, digital and social. It will also run across TV in the Republic of Ireland.
The 60 second film was created by Chris Landy and Colin Smith from dentsumcgarrybowen and directed by Donal O'Keeffe through MPC London. Narrated by Stephen Graham in the UK, and Cillian Murphy in Ireland, the film gets under the skin of everything a boxer goes through inside and outside the ring.
There will also be iconic OOH posters going up around the UK & Ireland, including London's Piccadilly Lights. Like the film, these installations draw an analogy with the ways in which DAZN is smashing up the rulebook, with famous boxing talents punching their way through the building façade of Piccadilly Circus. The screens crack, before an explosion of shards reveals fighters including world champion Katie Taylor.
As DAZN is all about putting sports fans first, the campaign directly addresses them with the copy: "Your Boxing. Your Way."
Dentsu's work with DAZN includes running the integrated advertising account globally across creative, media, B2B, CRM and experiential. The creative and strategy is by dentsumcgarrybowen, and all the media is handled by dentsu X.
DAZN's Chief Subscription Officer, Ben King, said: "Our new 'Game. Changed.' campaign defines what DAZN stands for as a brand, with our world class live sports and original programming offer, our fan focus and fearless storytelling. We're incredibly excited to introduce DAZN to the UK & Ireland, our home turf, with this creative campaign that showcases our commitment to bringing fans closer to the heart of sport with this emotive, story-led advertising."
Brendan Taylor, Managing Partner at dentsumcgarrybowen, added: "DAZN is offering something different in bringing its unique platform to the UK & Ireland. We wanted to tell this story through the lens of a boxer, and bring to life what it really takes to push the sport on and break new ground. To change the game, both on and off the field."
ENDS 
For further information, please contact:
Alice Noe, Corporate Communications Manager at dentsu: alice.noe@dentsu.com 
Abigail Pudwell, Global Communications Manager at DAZN: abigail.pudwell@dazn.com
About dentsu international  
Part of dentsu, dentsu international is made up of six leadership brands - Carat, dentsu X, iProspect, Isobar, dentsumcgarrybowen, Merkle, and supported by its specialist brands. Dentsu International helps clients to win, keep and grow their best customers and achieve meaningful progress for their businesses. With best-in-class services and solutions in media, CXM and creative, dentsu international operates in over 145 markets worldwide with more than 45,000 dedicated specialists. 
About DAZN Group  
DAZN Group is one of the fastest growing sports media companies in the world. Headquartered in the UK and with employees in over 25 countries, our businesses touch every aspect of the way fans engage with sports; from production, through to content distribution and commercialisation. DAZN Group is home to DAZN, the leading global sport destination, as well as the popular sport portal, DAZN News. DAZN is leading the charge to give sports fans around the world access to sport anytime, anywhere. DAZN guarantees affordable access on most connected devices including smart TVs, set-top boxes, streaming sticks, smartphones, tablets, PCs and game consoles. DAZN is now live in more than 200 countries and territories after first launching in Germany, Austria, Switzerland and Japan in 2016.
Visit https://media.dazn.com